As part of our new campaign titled "Fat Guy Takes Long Island", we wanted to highlight some of the best businesses on Long Island on a monthly basis.  This month we are in high "spirits" after our recent visit to Long Island Spirits, the first craft distillery on Long Island.  It was truly an eye opening experience.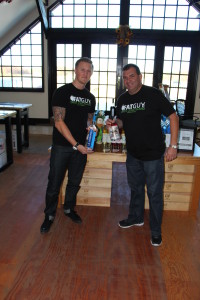 Our hosts produce many amazing concoctions in their local Long Island distillery and what we learned about the distillation process was equally amazing.  If you ever find yourself on the east end we recommend you drop into Long Island Spirits for a taste.  Our Visit kicked off with a personal greeting from Long Island Spirits owner Rich, and accompanying him was the amazing aroma of locally sourced Marcy Russet potatoes.  See, the success of Rich's spirits lies in the source of their products – potatoes, which are used to create vodka, bourbon, and other dessert liquors, rather than grapes, which are traditionally used. Rich started our tour with the vodka distillation process which begins at the 1100 gallon mash tun.   This massive tank mashes 7,000 pounds of potatoes for every batch they process. The mashing process mixes the potatoes into an enzyme soup that helps the breakdown process. This soup continues on through a 2000 gallon fermentation tank, and is heated to over 200 degrees Fahrenheit, finally yeast is added and the mixture is chilled to 90 degrees.  The whole process takes 3 days, and yields a 6% alcoholic potato beer.  Yeah.  Potato beer.  You wouldn't think it gets any better than that but trust me it does.  This potato beer is not actually fit for consumption but it is the precursor to an amazing vodka.  You see, the beer is then triple distilled to become the quality vodka for which LiV is known and loved. The first distillation is called the "stripping phase," and the product is a 90 proof 45% alcohol mixture that will go through two more rounds of distillation to become a remarkable artfully crafted vodka. Rich explains that this is the point at which the vodka's head, heart, and tail are distinguished.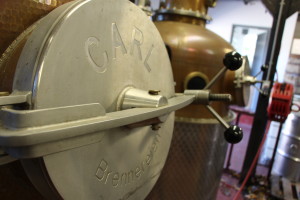 The first 20% of the mixture is called the head, and is made of the alcohols that aren't fit for consumption. Rich calls the next 65% of the mixture "the filet mignon of the run," also known as the heart, and we can see how much Rich loves what he does as we get to the climax of the process. The last 15% of the mixture is called the tail. Rich tells us that "the art of distillation (is) knowing when to make your cuts," and says that the skill to make those fine lines of making those fine lines of separation between the head, heart, and tail of the distilled vodka, is what sets experts apart from amateurs. Rich explains that in order to make your cuts in the right places, you need to truly know the tastes, smells, and textures of quality spirits. The expertise of the distillers at LiV isn't the only thing that sets them apart. The Sorbetta line is very special.  They use real fruit, lemon, lime, and orange skins that are hand peeled, then macerated in a cheese cloth.  There are 4,000 pieces of fruit for every 200 gallon batch.  It takes 50 flats of locally sourced fruit to make each batch of the Sorbetta Dessert Liquors.  This intensifies the flavor.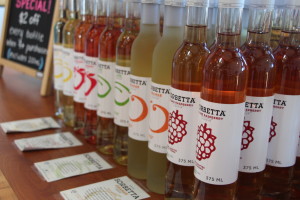 The sheer variety of quality products Long Island Spirits produces is truly impressive, as are their trio of whiskies.  This is where the fusion of craft brewing and craft distilling come into play. The first of the three whiskies is the signature Pine Barrens – an American single malt whiskey. The second whisky is born from the first.  It's distilled to make Pine Barrens Rough rider bourbon.  This strait bourbon is a high rye bourbon, meaning that the mash bill is 60 percent corn, 30 percent Rye, and 5 percent malted barley.  After being aged in new American oak for about 4 years there is a second maturation in high proof branding casks for another 3 months. Rough Rider Bull Moose 3 barrel Rye is another selection which has a mash bill of 95 percent rye and 5 percent malted barley, aged in a new American oak for a year and then aged in a second cask bourbon cask for another 3 months. Seeing the expertise and care that goes into these products before they hit the shelves, it's no surprise that Rich's Pine Barrens single malt cask recently won double gold as one of the best in the country.  This wasn't the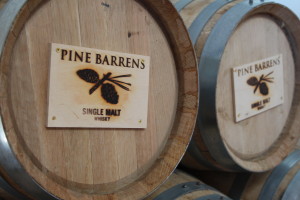 first time Long Island spirits has been recognized for excellence. LiV vodka also once won gold at the international spirits competition in 2011 and Pine Barrens was mentioned in January 2013's NY Times as one of the best single malts in the country for all those looking to read more about it. Rich doesn't stop there either.  His distillery also create private label brandies for Sparkling Point and Shurwood House and support for local farmers insures that the east end will continue to prosper.  Thank you to Rich and Long Island Spirits, Fat Guy Takes LI couldn't be happier with the tour of your distillery. Visit Long Island Spirits' Website by clicking here.