With as fast as media moves these days, you must be able to produce quick, interesting content on the go to dazzle a target audience and get in front of competitors. Luckily, there are plenty of great graphic design apps that can help you create content on the fly.
Easy Graphic Design Apps that Anyone Can use
Canva
Canva is an excellent tool if you're looking to easily produce remarkable designs for your content to appeal to a wider audience. It uses drag-and-drop technology and offers tons of pre-made layouts/templates as a way for you to create incredible presentations and social media graphics.
What doesn't Canva have? To start with, it offers over a million different options for stock photographs, vectors and even illustrations. You're able to adjust them to your liking using a wide variety of preset filters and editing tools.
If you need to incorporate text, you can choose from a wide selection of fonts to see what works best for you. There's also plenty of icons and shapes available to add to your images. With Canva, perfecting your graphic designs is a piece of cake.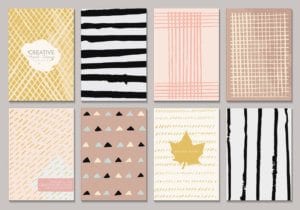 Spark
When you think of Adobe's graphic design apps, Photoshop and Illustrator usually come to mind. However, not many people know about Spark, another great tool to create immaculate graphic designs.
Spark allows you to design social graphics, web stories and animated videos in mere minutes using their mobile application. Your storytelling and communicating abilities can be enhanced with:
Curated designs
Inspiration galleries
Advanced sound recorders
Design filters
This free application will help you produce your content visions with ease. It's quick, simple to navigate and compatible with any platform you may use.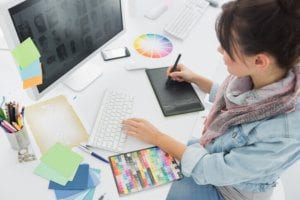 Pixlr
For mobile users, Pixlr is the go-to application for creating magnificent photos. It's available to download on the App Store and the Google Play Store.
This photo editor lets you seamlessly edit pictures with over 600 effects, borders and overlays. With Pixlr, you can also utilize these features:
Resizing
Cropping
Red Eye removal
Teeth whitening
Of all the graphic design apps available for mobile photo editing, Pixlr is a great option for crafting valuable multimedia content.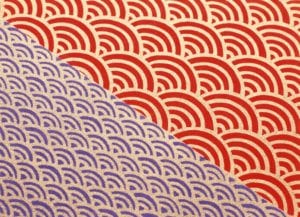 Pablo
Ever see a Twitter header or Facebook image that blew you away? If so, chances are that it was made on Pablo, a free Buffer tool that allows you to design engaging images to use on social media.  For the most part, it's used to produce images with text on top of it.
With Pablo, you can upload your own image or use one of its many options. There's also plenty of font sizes, styles and colors to choose from.
Not only are these graphic design apps free, they're also some of the best available. Each one is easy to use when needed  and the results always speak for themselves.