I don't know about you, but the first time I encountered Auto Awesome on Google Plus Stories, I thought someone was playing a joke on me. I took a photo of a bunch of our client's taxis in the snow at the train station, and it uploaded to my Google Plus account via Auto Backup. Sometime later, I'm looking through my photos on Google Plus and I find this: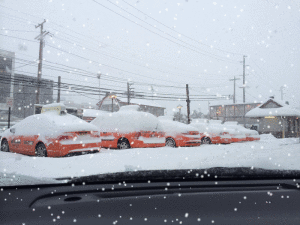 My first reaction was, "GAVIN! WHAT DID YOU DO TO MY PICTURE?!" To which he obviously replied, "…what?" because he had absolutely nothing to do with it. The culprit was, instead, Google! Soon after, I noticed the little alert in the top right corner of the image, and read, "This animation was created by adding falling snow to your photo. Learn more." Oh, so that explains it. It was then that I learned about Auto Awesome, which had been announced at Google I/O 2013 in May. After its release, Google continued to add features to Auto Awesome to, well, up the awesome. In October, the Google Blog announced the addition of Action, Eraser, and Movie, which would animate and alter photos that were taken in rapid succession and then uploaded to Google Plus via Auto Backup.
Now Introducing, Google Plus Stories and Movies
On Tuesday, Google released their newest Google Plus feature that pertains to photos— Google Plus Stories and Movies! They paint a picture that everyone is all too familiar with—you come home from a long trip, you don't know where to start getting back into your routine, from errands to laundry and everything in between. The last thing you want to do is go through the nine kajillion pictures you took during your trip, weeding out all the terrible ones and touching up the great ones. What if, instead of all that hassle, you could just hand your whole phone over to someone, and they'll carefully arrange the best snapshots of your trip in a beautiful, easy-to-share montage? "If only!" you think to yourself, but it's not just a dream anymore, it's a reality. Googler Anil Sabharwal shared his Google Plus Story Trip to Cabo San Lucas to demonstrate the new feature. If you don't make a habit of traveling too often, you won't be left out. Google Plus Movies is here to pull together all the important bits of everyday life, like children's milestones, birthdays, weddings, etc. Your Google Plus Movies include effects, transitions, and even a soundtrack! This is the Auto Awesome Movie that Google Plus created about Sabharwal's daughter's first bike ride: There's a full list of Google Plus improvements by Dave Besbris, which is a bit more comprehensive of an update. Also, as I just figured out while going through my own  photos, the new Google Plus Stories feature will actually go through and create stories and movies from your past experiences, so you may very well already have some waiting for you! Here's one I found on my account of videos I took #ThroughGlass at the Rocky Point St. Patrick's Day Parade! What do you think about the new Google Plus Stories and Movies? Let us know on Facebook or Twitter!