Shared workspaces are all the rage in big cities around the world. They're a genius idea, providing endless opportunities for professionals in virtually every industry. For starters, having to pay rent in a city like Manhattan, where even a closet-sized office space could easily cost $5-15,000/month, would be an impossible barrier for most startup companies. The opportunity to work in a great space like Grind NYC as often as you'd like for a tiny fraction of that is a dream come true for budding entrepreneurs. But startups aren't the only companies that are taking advantage of the influx of shared workspaces—many international companies that need to station small teams in various cities find that these shared workspaces are the most cost effective, practical solution to suit their needs. Even companies that have their own offices can benefit from shared workspaces, namely for their spacious conference rooms. If a small company is bringing in a big-shot prospective client, it certainly makes them look better to host the meeting in an impressive, professional conference room in high-rise on Broadway or Park Avenue instead of in their cramped office. Gavin came across Grind, a shared workspace with locations in NYC and Chicago, and decided to reach out to see if Fat Guy could go check out their space. They were super nice, and set up an appointment for us to visit the Grind NYC Broadway location. Last Thursday I charged up my Google Glass, and Gavin and I took off for the city to explore the space. We missed our first train because there was literally ZERO parking to be found anywhere near the station, so we parked about 4 blocks away and walked to the train. Shortly after everybody back at the office found out, we received a text of this Bitstrip: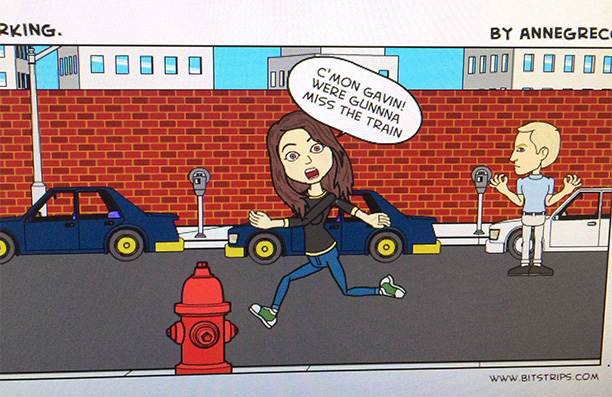 Thanks, guys. Anyway, our tour guide was an awesome girl named Alyssa. She was adorable and loved that we laughed at her jokes. To kick off our tour, she showed us their homage to the death of the traditional office. Encased in glass, they have a desk that's littered with dated office supplies—floppy disks, an old calculator, and most awesomely, a Macintosh Plus (CAN YOU JUST LOOK AT THAT MOUSE?!).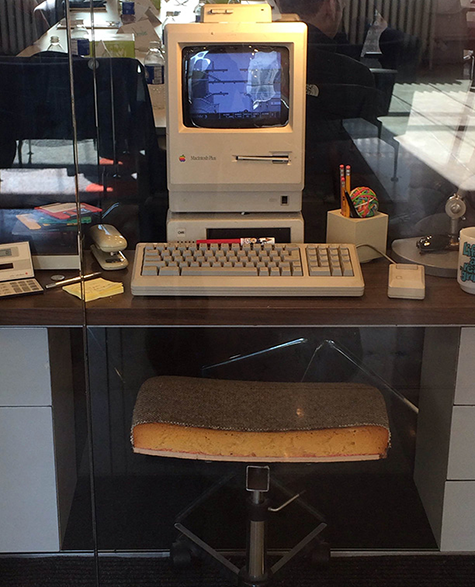 Next to the desk, hanging from the side of a big, metal filing cabinet, are photos of a family that the working man never sees—he's basically watching his kids grow up through pictures from the confines of his office. What a miserable way to live, right?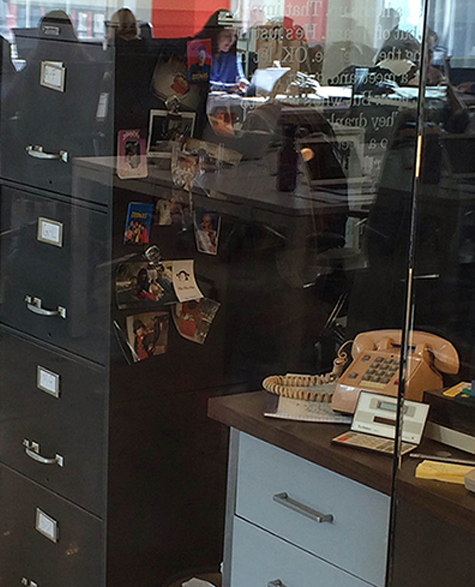 This display embodies everything that Grind strives not to be; their workspace is a place for people to come and go as they please, without the rigid confines of the traditional 9 to 5. People go to work there because they want to be there, and because the schedules they keep allow them to still live the lives that they enjoy outside of work.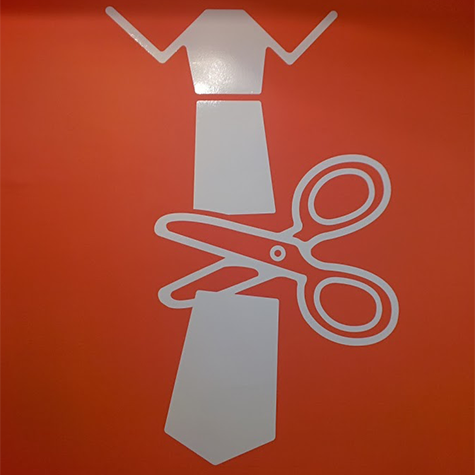 While we were there, a company was having a meeting in the largest conference room at this particular Grind NYC location. During the break from their meeting, they spilled out into the open workspace, ooh-ing and ahh-ing as they stretched their legs and explored. As we continued on our tour, we walked through the biggest open workspace, which was filled with several different types of tables, chairs, couches, standing desks, etc. to accommodate whatever work style a member may prefer. It had a very "Starbucks meets library" kind of feel to it; absolutely opposite of what you'd expect in a traditional office. All of the tables have plenty of power sources, so nobody needs to worry about being too far from an outlet to get their work done. We walked down a hallway with a bunch of tiny rooms to one side, all with glass doors. While you're allowed to talk on your phone anywhere at Grind, they understand that sometimes you need some private space to make a call—that's what these little rooms are for.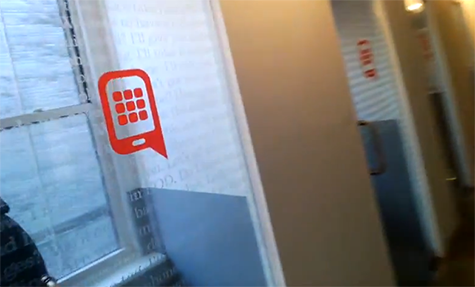 Then we reached maybe the most beautiful part of the Grind NYC space: the coffee! The barista in me nearly died and went to heaven when I saw all the caffeinated options available to Grind members, and best of all, it's all f-r-e-e!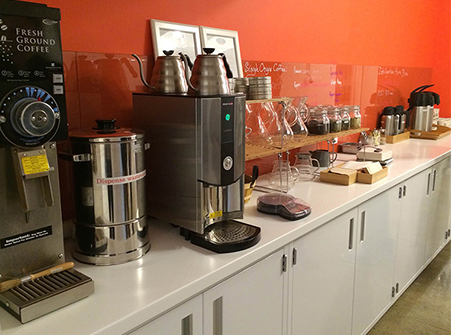 Clearly, I had to pour myself a cup, and I was surprised by how great it tasted! (In retrospect, I don't know why I was surprised, because the whole place was incredible. I'm just a coffee snob.)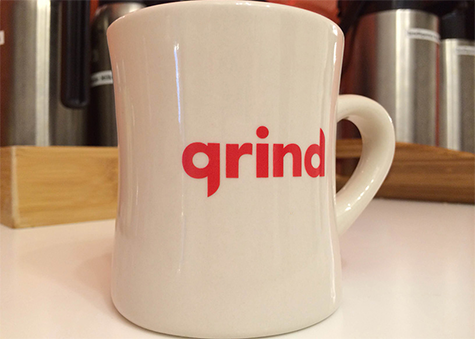 There is space at Grind for companies that need an area dedicated to their team and their work, and it's located just next to the coffee area (lucky!). There are 5 rooms that companies can rent as their own sort of headquarters, and outside those rooms are more tables for collaborative work that all members are free to use. They have this really neat wall of screens that flip through information that Grind members share on their portal profiles; typically their names, companies, what they do, and some of their work. It's a great way to familiarize yourself with what's going on around you, and what kind of people are working on projects next to you. The networking opportunities are endless when you're surrounded by creative, passionate people, which is one of the most attractive aspects of shared workspaces like Grind!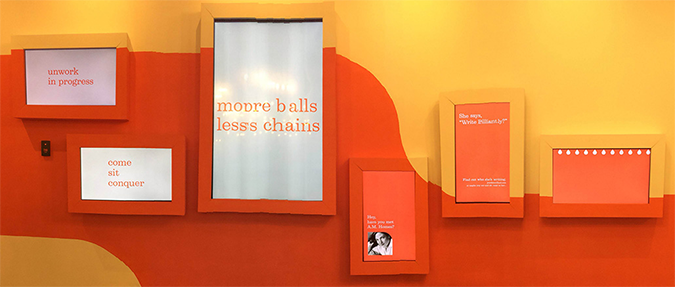 *there wasn't a typo on that big screen, I caught it mid-flip in my picture. There's also a café area at Grind, which had a very Panera-y vibe to it, minus the actual food. It's a space where people can sit at smaller tables to eat and chat, and they've started hosting Show-and-Tell events for members in the café in the evening. Their first Show-and-Tell just passed, but Alyssa was telling us that they hope to make it a monthly affair. It's just like if we were back in kindergarten: members have the opportunity to introduce themselves, and share what they'd like about their companies/projects/work. Again, another amazing networking opportunity!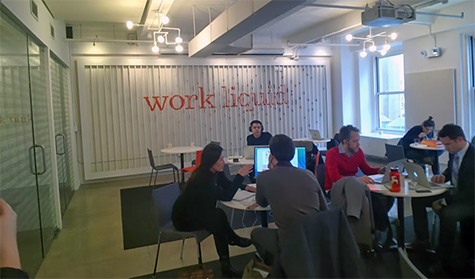 They also hold "Rethink" events, where they choose a particular topic and all meet to rethink how that topic can be approached. They bring in guest speakers, and it's a great experience for people to get together and talk innovation. The café is directly outside of three Grind "tanks," the Do Tank, Work Tank, and Play Tank. All three are meeting rooms that can accommodate groups that need to meet in a more private setting to plan or work together. Fun Fact: from the café you can see the Empire State Building!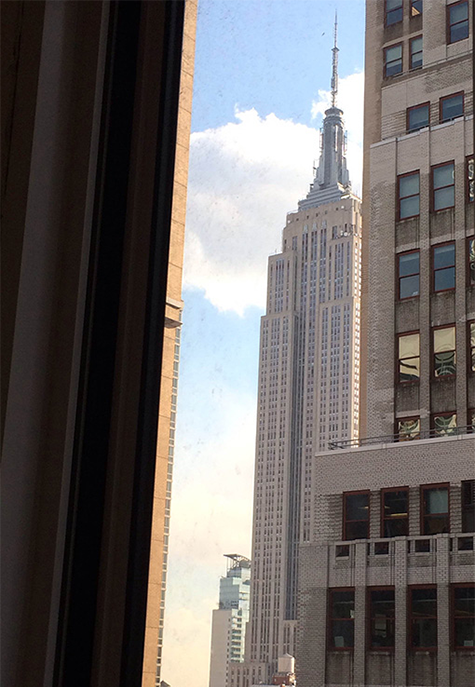 All-in-all, we had a great time at Grind NYC, and look forward to using their space when we have meetings in the city in the future! And I can't wait to come up with any excuse I can to have to work in there so I can take advantage of the shared workspace at Grind! In addition to the pictures we took with Google Glass, I also have a great video #throughglass of our tour, but for the sake of getting this blog out, I'm going to have to post it later, because we haven't quite finished editing it yet! So check back soon for it, and we'll be sure to notify you on Facebook and @FatGuyMedia when it's up! [UPDATE!] Here's the video of our tour #throughglass! [pexyoutube pex_attr_src="http://www.youtube.com/watch?v=lRyF2yu1bFo"][/pexyoutube]