Limited resources often make it tough to get your brand in front of new customers and keep existing ones coming back. These out of box ideas for marketing a business won't break the bank, and will help you reach your goals.
5 Great Out of Box Ideas for Marketing a Business
1. Stop Selling on Social Media
We're going to take a wild guess and say you understand why social media is critical to marketing any business. However, you may be unfamiliar with how to use social media as a marketing tool.
It's actually not about selling. It's about engaging, conversing with and delighting potential and existing customers in a genuine way.
So, our advice? Stop thinking of social media as a sales tool. Don't even post about your product or service for a week or two. Focus instead on engaging with your followers and watch what happens. Once you've engaged your audience, then they'll be primed to start buying.
2. Give Stuff Away for Free
First we tell you to stop trying to sell stuff on social media, now we're telling you to give stuff away for free. But seriously, we're not trying to put you out of business. Giving away branded merchandise has been incredible for generating awareness about Fat Guy Media.
We handed out Fat Guy Media Beer Koozies at the Barstool Sports Golf Outing and gained a boatload of social media followers. We gave Fat Guy Media Post-It Notes to Hofstra University's Radio Department and students have reached out about jobs as a result.
The spike in brand awareness generated by branded merchandise justifies the cost, and then some.
3. User Generated Content
Having your customers write testimonials about your company or post photos and videos of your product (also known as user generated content) is excellent for two main reasons.
One has to do with social proof, the psychological principle that people are likely to be influenced by the behavior of their peers. When potential customers see someone just like them having a positive experience with your company, it helps build trust.
The second reason is that it takes a lot of content creation responsibilities off of you and your marketing team. This frees up resources to tackle other important tasks.
4. Live Video
One of the top out of box ideas for marketing a business is live video on social media. The benefits of live video are numerous:
Real-time way to connect with your audience
Answer audience comments and questions
Humanize the people behind your company
Perhaps the best thing about live video is that it allows you to leverage the power of video marketing without having to go through the entire video production process. Most people aren't expecting live videos to be highly polished and professional (although, we do recommend getting a phone tripod and a microphone).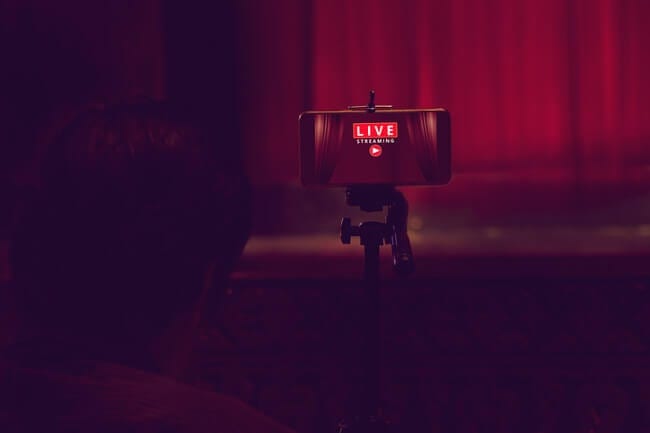 5. Remarket to Missed Opportunities
Some of our clients are shocked when we tell them that they can serve ads to people who've visited their website without converting into a lead. Remarketing allows your business to stay in the forefront of potential customers' minds as they browse the internet.
Have any other out of box ideas for marketing a business have worked for you?