About 78 percent of people in the United States have social media profiles. This has led many to believe that social media marketing is an easy task—until they've been posting with little success for months and realize it's not all so simple. The truth is, creating the right social media posts takes a bit more aptitude than the average Facebook user has.
Understanding your Audience
Building perfect social media posts begins with a thorough understanding of your audience. Some questions you should seek to answer as you research your ideal listeners include:
1.      Which Platforms Do They Use Most?
Narrowing it down by demographics is a great way to start. The Pew Research Center continually publishes and updates statistics that detail which types of people frequent each of the major social media platforms. This is the perfect place to figure out which networks you should primarily post to.
2.      To Which Types of Content do They Respond?
Understanding which types of content your audience most enjoys requires a bit of experimentation. Documenting the success of different types of posts, such as blogs, photos, videos, lists and tips, grants you new insights for the future.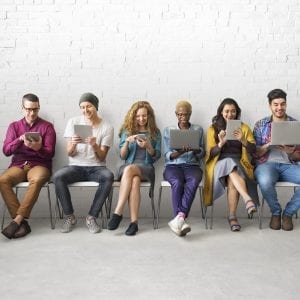 3.      What Kind of Conversations are They Having?
By tuning into social media conversations that people are having about your business' industry, you can figure out how to cater posts to answering questions your audience has.
For example, if you were looking to market an auto body shop, you could monitor social media for people talking about car problems they're having and create content that addresses those problems.
After you've answered the above questions, use the information to create fictional yet detailed representations of your customers, known as "buyer personas." Keep these personas in mind as you post. They're the ones you're talking to.
How to Craft Ideal Social Media Posts
Develop a Voice
Before you can craft perfect social media posts, you need a notion of your ideal brand voice. Imagine your brand is a character. Your voice is what that character would sound like. Is it authoritative or friendly? Informational or playful? Answering questions like these can help you develop your voice.
Set the Tone
If your voice comes from an unwavering persona, the tone is what changes from post to post. Whether your tone is sincere or cynical, serious or funny, depends on the situation. If you're responding to a customer concern, a personal, genuine tone is a solid choice. On the other hand, a comical, playful tone is appropriate for a post that showcases your company's unique culture.
Mind Your Manners
Posting etiquette varies across platforms. While hashtags help you gain exposure on Instagram, they look unprofessional on LinkedIn. Also, tweeting several times a day is fine, while five posts to Facebook may drive your followers mad. Make sure you follow the unwritten rules of each platform.
Use Photos and Visuals
High-quality photos and visuals work to catch the eye of readers as they scroll through their newsfeeds. While ideal image size differs between platforms, there's no question that in general, posts with images reap more engagement than plain text.
Keep it Brief
Twitter limits your posts to 140 characters, but other sites allow for much longer messages. Still, just because you have all of that space doesn't necessarily mean you should use it.
The majority of people look to social media to get quick updates (not read novels), whether they be about current events, business or their friends and family. Try to get your message across in as few words as possible, and use words that entice people to engage with your posts.
If you're still struggling to produce awesome social media posts, don't hesitate to look to other brands for inspiration. We've got a few favorites ourselves!