Since the majority of searches are done on mobile devices today, retailers wanted to create a seamless checkout process for users. Google jumped at the opportunity by launching their latest feature, Purchases on Google. For those of you who are asking "what is shop advertising?" we have all of your answers covered.
What is Shop Advertising?
Purchases on Google is the search engine's latest feature. It is a new service that allows a user to buy an item directly through Google Search ads. According to Google, United States retailers' conversion rates on desktop computers are two times higher than on mobile. So to answer your question, "what is shop advertising?" it's a new solution to help retailers increase mobile engagement and sales by bridging the gap between mobile browsing and desktop purchasing.
Purchases on Google: How It Works
When a user searches for an item on Google, the Purchases On Google-enabled ads for that product will appear in the search results. The user can click directly on that ad which will redirect them to a microsite or landing page within Google that looks like the retailer's site. At this point, the user can either purchase that item or search for other products from that retailer. If they choose to make a purchase, they will find that the checkout process is seamless.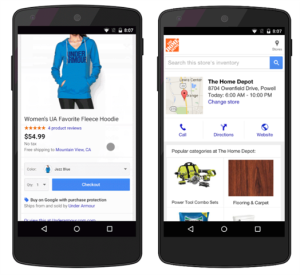 Maintaining Retailer and Customer Relationships
To ensure that retailers maintain a close relationship with their customers, all orders, product fulfillment, shopping and customer communications will be handled by the retailer.  All payment information will be handled through credit card credentials stored in the user's Google account or they can enter a new payment during the checkout process. Also, Google will be paid directly by the retailers based on ad clicks unlike online marketplaces like Amazon and eBay, which take a cut of the sales price of items.
Future Shopping Features
If all goes according to plan, Google looks to add these additional unique features to Purchases on Google:
Deep Linking
With all of the great shopping apps available, retailers can take advantage of adding deep links to their shopping ads that will take a user directly to their app. This will help drive engagement to their app and will be another beneficial way for retailers to advertise on Google.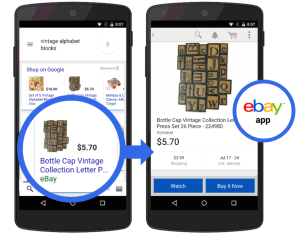 Product Reviews Card
Shoppers love to see what other customers think about a certain product and they often rely on user reviews before making a purchase. Ads that have rankings and product reviews help have already seen click-through-rate increases of up to 11 percent.
Google Now Price Drop Card
If a certain item is on sale of if the price has significantly dropped, the retail store will alert you with a Google Now Price Drop Card.
Google Now In-Store Card
If a user is located near a certain retail store, the Google Now In-Store Card will appear and list current sales, store hours, inventory, loyalty card information and more. This feature will also help the retailer to gain more qualified traffic.
Conversational Voice Search
Ask Google Now for a shopping-related item, just like you would ask a salesperson at a retail store. Then, Google will answer your question by providing an image of the requested product that you asked for.
Ranking System
If a searcher is looking for the "best" version of a certain item, Google will display the best three products based on user reviews.
Now that we have answered your question, "what is shop advertising?" do you think that you would start making more purchases on your mobile device?