Brand Advocacy is on the rise. According to a survey by Social Toaster, more people are likely to trust content that's been shared with them from another person than they are from a brand. Thus, making it that much more essential for your business to have trustworthy brand advocates.

How Brand Advocacy Benefits Content Marketing
Those without brand advocates will have a tough time proving to a new audience that they are the experts within their field and have something valuable to offer. Brand ads can be seen everywhere you look, making it harder for the audience you're looking for to distinguish between a reputable company and a fake. No matter what content you put out for the world to see if you don't have someone backing up your company you can fail.
With a brand advocate, you don't need to be pushy in order to get your customers to commit to your business. Your brand advocates can be the ones to help guide customers through their buying journey; having reliable brand advocates can be the push that an unsure consumer may need in order to make that final purchase decision.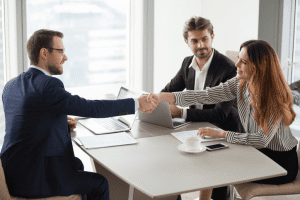 Why Brand Advocacy Matters
Successful brand advocacy can have many benefits for your company. There are 3 specific benefits that they provide:
1. Grow your brand organically
You will not need to spend a lot of money to get your brand known to the world. Instead, brand advocates can spread the word about your business with little effort on your part.
2. Highlights how good your product/service is
People will not brag about something for free unless they actually like the product or service. People trust another consumer's opinion of a brand or service before they'll trust the brand itself. So, when these advocates start talking about your brand, it makes your business more valuable.
3. Create a broader reach
Focusing on your brand advocates allows you to drive more business because advocates are three times more likely to share the information with people they do not know.
Building a brand for your business is crucial. Engaging with your clients can go a long way in growing your business and attaining brand advocates. Continuing to provide great customer service and products or services, are the main pillars to creating strong brand advocacy and providing your customers with an authentic experience.