Content marketers are always searching for the right strategy. To do what they do best, they require a plan of attack. That's why it surprises us many marketers live by the seat of their pants without a content calendar.
We know, we'd never be as effective as we are without one.
What is a Content Calendar?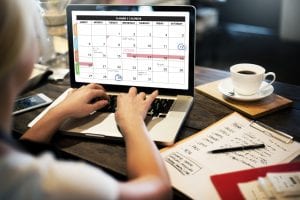 A content calendar is a shareable resource used to plan marketing activity in advance. It enables marketers to visualize and plot the distribution of content, such as social media marketing or blogging, over a period of time.
How it Benefits you
1)      It keeps everyone organized
An editorial calendar is perfect for keeping marketing teams on the same page, because it is a central resource anyone may refer to for assignments, due dates, publish dates and more.
Instead of individually monitoring assignments, the whole team can view their own and each other's tasks at any time.
If you use a calendar, you are less likely to:
Forget assignments
Miss deadlines
Mix-up publish dates
2)      It increases efficiency
In marketing, everyone strives to be more efficient.
Marketers who rely on content calendars have the ability to accomplish more, because they improve team collaboration. By putting the month's content deliverables on a calendar, it makes it much easier to see what is needed to complete each task. This increases productivity by helping to streamline team resources.
3)      It's easier to plan strategically
Scrambling around to plan and publish content is no fun. And worse, it can lead to costly marketing mistakes.
An editorial calendar can solve these issues. And, when you plan marketing campaign ideas in advance, it's possible to create a more effective strategic plan.
For example, instead of rushing around on the day of a holiday, creating a calendar will enable your team to create graphics and content days or weeks ahead of time.
As you can see, creating a calendar is an easy way to improve the effectiveness of your marketing team. That's why we'd be lost without one.