In just a few days, the Carolina Panthers will be taking on the Denver Broncos in one of the world's biggest sports games: the Super Bowl. Are the Panthers, led by the young, energetic Cam Newton ready for the challenge posed by Denver's top-ranked defense and an offense commanded by the legendary Peyton Manning? We'll find out the answer to that question on game day. We don't know who will win, but one thing is for certain: these teams would have no shot at making it to Super Bowl 50 without the proper strategy and execution. Similarly, a business could never become the champion of their industry without the ideal marketing plan.
An Inbound Marketing Strategy Fit for Super Bowl 50
Web Design: Quarterback
Web design is like the quarterback of your marketing strategy. Just like quarterbacks are often referred to as the faces of their franchise, your website is the digital face of your company. Plus, your website is the place from which the rest of your marketing strategy is coordinated. Think of Peyton Manning back when he was on the Indianapolis Colts. The entire offense was centered around his brilliant play calling. From social media to content marketing, all of your strategies have a common goal: get more traffic to your website to convert into sales.
Search Engine Optimization: Running Back
Here you have the running back of your team, SEO. A great running back is well-conditioned and able to withstand hard hits from the defense. Your company's SEO should also be able to bounce back from the inevitable changes that are made to search engines. Did Panthers' running back Jonathan Stewart throw in the towel when he went down with a foot injury a few weeks back? No way. He came back and proved how strong he was when he set the tone with a huge run on one of the first plays of the NFC Divisional Game versus the Seahawks. Your SEO should be just as strong.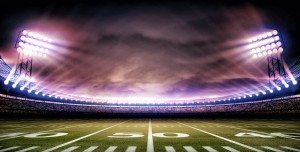 Search Engine Marketing: Offensive Line
Search engine marketing is a lot like a football team's offensive line. The offensive line provides the quarterback with protection and opens up running lanes for the running back. While the work done by offensive linemen isn't as glamourous as a one-handed touchdown catch, it's still super important. Similarly, search engine marketing does a lot of the heavy lifting in terms of drawing traffic to your website, but a lot of it is done behind the scenes. For example, not everyone knows about remarketing, a technique that works wonders for boosting web traffic.
Video Marketing: Wide Receiver
Video marketing is similar to a wide receiver—flashy with big play potential. Football fanatics will tell you that the NFL has become a passing league. Back in the day, running backs ruled the offense. Fast forward to Super Bowl 50. Now, teams rely heavily on their aerial attacks to move the ball effectively. Like the game of football, consumer preferences have also evolved. Millennials now have a ton of spending power, and they love video marketing. What better way to score the millennial dollar than with video?
Email Marketing: Special Teams
Oftentimes, the importance of special teams goes unnoticed. Similarly, the power of email marketing tends to be overlooked. Email marketing is a transactional medium, which means consumers are in a buying mindset when they open emails. Don't let a poor email marketing campaign cost you hundreds of potential customers like special teams cost the Minnesota Vikings their playoff run.
Social Media Marketing: Linebacker/Defensive Back
Social media marketing is like a linebacker or defensive back. Linebackers and defensive backs must be versatile: they need to defend the run and also drop back into coverage depending on the play. A social media marketing campaign also needs to be flexible in order to succeed on any channel, whether it's Facebook, Twitter, LinkedIn or anything else. If Luke Kuechly, the all-pro inside linebacker who leads the Panthers' defense could only play the run, they probably wouldn't have made it to Super Bowl 50. He can do it all, and that's one of the reasons why the Panthers are NFC champions.
Content Marketing: Defensive Line
The defensive line is the cornerstone of the defense. Defensive linemen need to slow down the run and rush the quarterback to help out the rest of the defense. Similarly, great content is the foundation of a strong marketing strategy. Without content, what would you distribute to your audience to educate them about your brand?
Now that you know why each aspect of an inbound marketing strategy is important, remember that integrating all of them is what ultimately makes a great campaign. Neither of the teams playing in Super Bowl 50 is incomplete, and your marketing plan shouldn't be either!