You've mastered blogging and now you're looking to expand your company's online authority in a more creative form. Why not try vlogging? Vlogging, also known as video blogging, is a series of blogs but in video form. They provide the proper content necessary to get your point across but use visuals instead of words.
Vlogging for your business provides an outlet to expand your target audience or reinterest your current audience. It also gives viewers a chance to better understand your company and get a feel for how your company works. If you are a creative company providing innovative services, demonstrate those qualities within your video blogs. Enticing visuals and graphics will attract viewers so they'll keep looking for more.
Vlogging 101
There are a number of ways to record a vlog. You can film yourself from the computer or a camera, or even create an animation if you know how. Once you have that figured out, there are important tasks to perfect when creating your first vlog:
Content
First and foremost, define a topic and keyword. Your keyword will be used to optimize the video on the platform you post it. When figuring out a topic, just pretend to outline it as you would with a blog. If you plan on creating a video that features you speaking the majority of time, you will want to outline what you plan to discuss. That way, you won't leave out any important information, and you'll be able to stay on track. The last thing you want to do is have to film the vlog again because you missed something vital to your topic.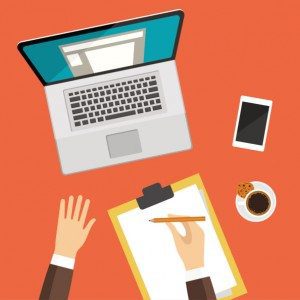 Camera and Audio
There's tons of cameras out there like web cams, dual video and picture camera and video, video camera or even your smartphone. Choose what you are comfortable with but make sure it will also create high-quality pictures. If you are doing this on your own, invest in a tripod or just make sure your camera is on a sturdy even surface. Whether you're creating a how-to video or explaining an important topic in your industry, you want to display professional standards.
In most cases, your camera will have some type of internal microphone but you want to insure the quality is right. If you are positioned right in front of the camera but the audio makes it sounds as if you are 10 feet away, then you should consider purchasing an external microphone. A benefit of an external microphone is that it works to cancel out any environmental and unnecessary noises in the background. This way your voice will come in loud and clear.
Lighting
Before filming, make sure the lighting is perfect. This is a major factor when producing a professional vlog for your business. It's also one of the more complicated aspects to filming. Usually cameras can balance out light exposure but to give it some extra guidance use natural light. Ideally when vlogging, you should have a main light above you or the subject, a light behind the camera facing the subject and a light behind the subject. These lights cover all angles and avoids shadows. You can even search for inexpensive light kits to get you started.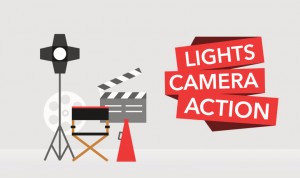 Performance
Next comes filming. At this point your camera, audio and lights are set up and you have all the necessary content to get your message across. So when you hit record, remember you are a professional on the topic and you're ready to share your ideas through vlogging.
Post-Production
The technical aspect of vlogging can seem a little intimidating, but find a software that works best for you. You can edit on YouTube or learn how to use software like Movie Maker and iMovie. Or even better, don't edit at all! If you're confident enough in your video and feel as if you don't need graphics or images to get your point across then go ahead and send it out!
Posting
Last but not least, post your vlog! The best platform to use is YouTube, which you can easily integrate onto your blog platform. Optimize the vlog on YouTube then write a blog to aid search results.
Gain a following by creating your own vlog series for people to look forward to and you'll up your content marketing game in no time!
Need some inspiration? Check out Fat Guy Media's #FatGuyFridays recent vlog. Our team created a short video demonstrating out to make a delicious 7 Layer Dip!