Before you go ahead and purchase a product or service, you likely do a bit of research first. You don't want to eat at a restaurant that has one star on Yelp or buy a sweater that received scathing comments about how it shrunk to half size after one wash, right? Just like people tend to steer clear of companies with poor reviews, they also tend to shun those without any reviews at all. To make sure potential customers aren't avoiding your business like the plague, we've got some tips for building up positive company reviews.
Gaining Positive Company Reviews
Strong Customer Service
The best way to get positive company reviews is simply to provide a great customer experience. The fact of the matter is, no matter what industry you're in, the people who feel most inclined to hop online and review a business are those who are either really happy or really upset. If the majority of your customers leave your business fully satisfied, you're more likely to get great company reviews.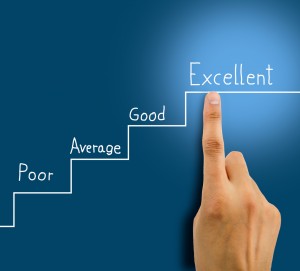 Don't Be Afraid to Ask
If you've got a few customers who continually patronize your business and are satisfied each time, it doesn't hurt to ask them to review you online. Of course, you don't want to be pushy and demand that they provide you with a wonderful write-up about how great you are. But, a gentle reminder that your company values their opinions and would love to hear their feedback may go a long way.
Also, for obvious reasons, avoid asking dissatisfied customers to review your business.
Make Your Online Presence Known
You may not feel comfortable directly asking everyone to review your business, and that's fine. Especially if you have a younger customer base, you may feel more comfortable engaging your customers via social media. In fact, 62 percent of millennials say that they're more likely to become loyal customers to a brand who engages them on social media. One of the best ways to gain more positive company reviews is simply to have a strong social media presence and make it easy for customers to review you.
Handle Negative Reviews with Grace
Unfortunately, not every customer of yours will be satisfied. If you receive a negative review, don't be up in arms ready to defend your company to the death. Handling a negative review properly can go a long way. Directly contacting a disgruntled customer in a timely manner with the intent of solving their problem courteously can even turn a negative review into a positive one.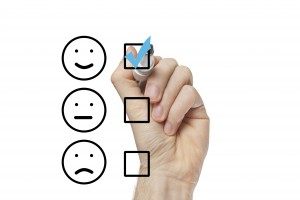 Play the Numbers Game
Whether they're on Yelp, Facebook or anywhere else, you can't delete negative reviews. The more positive company reviews you receive, the more diluted the negative become. Receiving twenty reviews—16 good and four bad—is better than having just three reviews—two good and one bad.
What Not to Do
Nowadays, there are actually companies who profit off of writing fake reviews. If you're having trouble getting reviews, it may be tempting to buy some. Under no circumstance should you do this. Fake reviews are usually rather easy to spot, and Yelp has even begun exposing businesses who buy them. On the Yelp pages of offending businesses, you'll see a message that reads: "We caught someone red-handed trying to buy reviews for this business. We weren't fooled, but wanted you to know because buying reviews not only hurts consumers, but also honest businesses who play by the rules."
With these tips, you can gain company reviews that will make your business attractive to those who research it.