A nonprofit organization needs a website to attract investors, partners, and supporters. Undoubtedly, a well-designed website will play a significant role in building your organization's image and creating an opportunity to better connect with stakeholders and interested parties. There are many design elements to consider in the planning stages. In the end, what makes a good website for your organization is one that accomplishes all of your goals.

Where should you start? What should you include, and how do you get started? Consider these strategies.
What Makes a Good Website: Start with Being User-Friendly
A nonprofit organization's website needs to be easy to navigate. It should have a design that allows people to move through it effortlessly, finding the information they need as they go. The site should also make the intent and messaging clear and consistent.
What is your organization's mission?
What goals do you have, and what kind of help do you need?
What types of organizations are you already working with?
How can people volunteer, support, or become a part of your organization?
What action do you want people to take when they visit your website?
Outline specific details about how you want your website to function for your organization. It could be just informational. On the other hand, it may provide insights into how people can contribute or showcase your good work.
Is Your Site Donor-Friendly?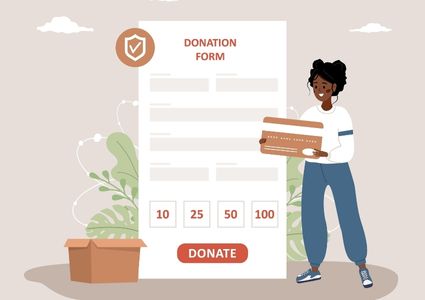 Many nonprofit organizations are dependent on the generosity of supporters of all types. As you build a website, ensure it clearly communicates what kinds of donations you need and clarifies how people can contribute.
Create a donation page
This page should offer people options for donating, perhaps different values, and an easy-to-click-on icon so they can make a payment.
Your donation page should also include an email newsletter signup form. This will allow you to stay in touch and keep people current on all that is happening. Also, set up a pledge form where people have an option to donate consistently or annually.
Do You Need Volunteers or Community Partners?
Be sure your website specifies how people can contribute their time to your organization. For example, suppose you need volunteers; set up a page highlighting when and how people can get involved.
When trying to reach out and attract larger organizations or partners, you should have a media kit available and easy to find. It should outline what your organization's goals are, which ones they have achieved, and how partnerships can help them reach future ones.
Communicate Your Mission Through Video and Photos
All websites need to have strong visual components. The expression that pictures speak louder than words has some definite merit. The photos and videos you can show about your organization reach people in a very personal and relatable way, making the overall site more appealing to the eye. Be sure to invest in quality visual elements and update them as often as possible.
Creating a Website That Captures Their Needs
There's so much more that can go into your organization's website to create a personable, search engine-ranked site that communicates your mission. What makes a good website for a nonprofit is one that helps build your brand and gets people involved immediately.
Contact us today to learn more about how we can help you build a robust and effective site.