On Saturday, August 4, 2018, several Fat Guys and friends hopped on a bus to Cape May, New Jersey to compete in the 5th Annual Barstool Sports Golf Classic. Without including too many painstaking details, here's how it went down.
What is the Barstool Sports Golf Classic?
For those of you who are unfamiliar (probably not many), Barstool Sports is a blog that covers sports, pop culture and their intersection. They're known for their satirical trash talk.
For the last five years, they've held their annual Barstool Sports Golf Classic at Avalon Golf Club, located south of Atlantic City in Cape May, New Jersey. Money raised is donated to Brave Hearts For Strong Minds, a charity that provides college education funding for children who have lost a parent.
First prize for the tournament was an all-expenses paid, four-day weekend trip to Myrtle Beach's Caledonia Golf and Fish Club (spoiler: we didn't win). Minor cash prizes and raffles were also distributed.
Fat Guy Takes South Jersey
Polos and Beer-Koozies
To rep our brand on the links, Fat Guy Media's owner, Tom Jacoberger, ordered the most incredibly bright yellow golf polos we've ever seen. They're so vivid that we seriously may have discovered a new color.
We also packed up some Fat Guy Media shirts and beer-koozies to hand out to our fellow golfers.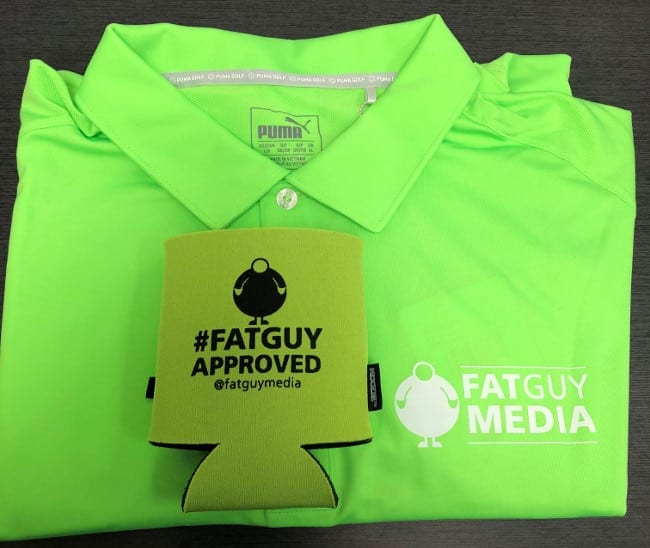 Fat Guy is for the People
Avalon Golf Club is a beautiful place with awesome employees. They were extraordinarily helpful in setting up our official tent for merchandise giveaways. Special shout out to Ron for driving us around on his golf cart.
Since it was a Barstool event, naturally, kegs were tapped (we behaved, don't worry). The beer-koozies were a huge hit. Before tee time, just about every golfer there was keeping their suds cold with an official Fat Guy Media koozie.
And yes, we even gave koozies to the folks from South Jersey and Philly who were decked out in Eagles hats and jerseys. Go Giants.
Golf Time!
We didn't shoot so great. One Fat Guy foursome shot a -5 for the course, and the other managed not to record their final score. Not sure how that happened, but it's safe to say it probably wasn't good. Did we have fun regardless? You bet.
There ended up being a four-way tiebreaker to determine the winner of the tournament. Four different teams shot between -14 and -16. Since scoring was based on the honors system, there was no way to verify whether those numbers were accurate. The tiebreaker made it as fair as possible, in case one team cooked the books or made an honest math mistake.
Congrats to the first place team, whatever their names may be.
Huge Thanks to Barstool Sports
We'd like to extend a huge thank you to Barstool Sports, especially Smitty and Tyler, for setting up the event. The 5th Annual Barstool Sports Golf Classic was tons of fun, and we'd love to come back in the future.