You probably know by now that Twitter is a valuable resource for social media marketing. However, the process of building an engaged following is not the world's easiest task—especially without the help of paid Twitter ads. In this blog post, we detail our best methods to help you learn how to get more Twitter followers, organically.
How to Get More Twitter Followers
Proper Profile Setup
Anyone who's seeking to learn how to get more Twitter followers must first properly optimize their profile. What many people don't realize is that profiles won't come up in Twitter's search function unless bios and pictures have been set up.
A professional photo, be it a headshot if it's your personal account, or a well-designed logo if you're using Twitter for business, should be set up.
Though the bio section is limited to 160 characters, it's one of the most significant parts of a successful Twitter account. In your Twitter bio, include a brief summary of who you are or what your company offers and a tagline that reflects your personality.
We at Fat Guy Media are a great example of this. Our name doesn't exactly make it obvious that we're a full-service inbound marketing and web design agency, so we specify that in our bio.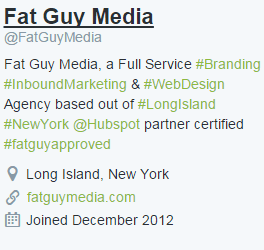 Add Follow Buttons Wherever Possible
Placing follow buttons on your website and within your emails can entice spur-of-the-moment follows by anyone who sees them. When people are impressed by the content on your website or the information within your emails, there's a good chance that they'll be inclined to follow you on Twitter to keep up with whatever else you're doing.
Get Involved in the Community
One of the best things about Twitter is the culture of sharing that it fosters. While you should certainly promote the content you produce yourself, Twitter is also wonderful for sharing with your followers anything valuable or entertaining you find on the Internet.
When you share someone else's content, you introduce them to your followers, and also increase the chances of them sharing your content to their own followers. Even just retweeting and replying to other people's tweets can spark meaningful conversation.
Hop aboard the Trend Train
Being unique should absolutely be a core tenet of any social media strategy. However, there's no shame in tweeting about the same trending topics that everyone else is. It's highly recommended that you monitor hashtags and add your own personal touch to the conversations people are having. Jumping into popular, trending conversations is a great way to learn some new things, and, of course, gain more followers.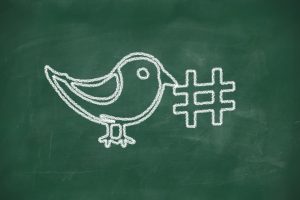 Follow with Purpose
Make sure you're aware of who you follow. Some people will tell you to follow every account you come across, since many people are likely to follow you back on principle. While you may gain a few more followers this way, many of them won't engage with your tweets. There are tons of Twitter accounts with hundreds of thousands of followers that see absolutely no engagement on their tweets, making those followers virtually meaningless. You should follow accounts that are tweeting things relevant to your industry.
Instead of seeking to increase the sheer number of your followers, ask yourself why it is that you want to learn how to get more Twitter followers in the first place. That answer should be to grow your brand and interact with worthwhile people. Engaging in meaningful conversation with people near and far is what makes Twitter a significant, brand-expanding social media marketing asset.