You're gung-ho about upping your company's marketing strategy but are running out of ideas to help improve it. So, why not branch outside of what your own company is doing? In addition to your company, look at what your competitors do. Odds are you have competitors in your industry and that's not always a bad thing. Instead of ignoring them as if they don't exist, get inspired from them with acompetitive analysis, an innovative outlook to up your marketing strategy.
What is Competitive Analysis?
A competitive analysis is exactly what it sounds like; analyzing the competition. According to Entrepreneur, a competitive analysis is the process of evaluating your competitors own marketing strategies. Identify their strengths and weaknesses and apply it to your company's strategy.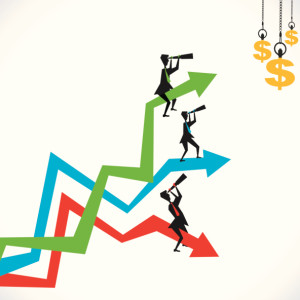 How to Create a Competitive Analysis Plan
By now you've probably put together a decent portion of your own marketing strategy. Your next step is to create your competitive analysis plan. Here's what you should be looking for:
Growth Pattern
When looking at a competitor, classify which aspect of marketing they are excelling in. For instance, if your competitor is using an Inbound Marketing strategy, look at their blogs, social media presence, SEO, forms and website content. Some aspects of Inbound are not that easy to analyze. While you may not be able to tell the amount of contacts your competitor has, you may be able to acknowledge how many sign up forms are on the site. These forms can be email newsletters, offers or anything else. If you cannot easily identify the competitor's marketing tactics, then they don't really pose a threat to you.
Visit Them
If your industry has a store open to the public take some time and check the place out. Take note of signs around the store, promotional literature and the overall feel the employees emit to their customers. It's a great way to determine new ideas to delight customers. If your industry revolves around corporate offices, it might be a little more difficult to see how your competitor works. What you can do is find out who they work with, based on whether they are affiliates or clients. See what your competitor does to service their client.
What Campaigns are They Running?
Acknowledging what current campaigns the competitors are running will give you insight to a whole realm of marketing information. Pinpoint if their campaigns are based around a sale, target audience, geographical location or anything else. See what they are doing that works and adjust their campaigns to make them your own. Here are some questions to ask yourself when creating a competitive analysis plan:
Who are your realistic competitors?
How is the competitor's products and services similar and different?
What are their current marketing strategies?
What are their past marketing strategies?
How are these marketing strategies similar and different?
What marketing tools do they use?
These questions can lead into even more questions for you to ask yourself when analyzing the competitor. Remember, you don't want to steal what they have, but create something similar that's all your own. Be stealth and efficient and you'll crush the competition with your next marketing strategy!