Tis the season to let loose, get on that ghoulish garb and have some fun (maybe even get a little spooked). For kids, Halloween used to be the ultimate holiday. Staying up late, dressing up like your favorite superhero or movie character and an abundance of FREE candy, why wouldn't kids love this holiday? Everyone hates relinquishing the best parts of their youth, we shouldn't have to let go of all of our favorite parts of the Halloween season just because we're too old to trick-or-treat. Halloween at the office is the perfect way to let those goofs in the office act-a-fool and gives those who suppress their inner child a chance to show coworkers their less serious side.
Halloween at the Office – How to Make the Most of the Holiday
Create a Halloween Tradition
Halloween is the perfect holiday to start creating a company tradition around and Halloween at the office brings out the kid in all of us. Dressing up in a costume is fun, funny and spooky. Nothing brings a group together better than letting loose, getting back to those events and activities that remind you of being a careless kid. Embracing these at the office can foster a stronger sense of community and enhance your company culture. The age of your company is not a factor in creating a tradition around holidays, there is no time like the present to get one going. Halloween is the perfect holiday for the office. With a diverse group of employees, employers can be weary of offending anyone by highlighting holidays with strong religious affiliations. Halloween activities aren't really tied to any, one religion so it is usually a safe bet for an employer to promote celebrating it at the office.
Costume Contest
In offices where a suit and tie is the traditional daily gear, encouraging employees to wear costumes to work on Halloween can bolster morale and create a fun environment for the day. Give your employees a chance to let loose and bring out their more hidden, creative side. Creating a contest around the costumes can increase the amount of participants and the will encourage employees to pull out all the stops.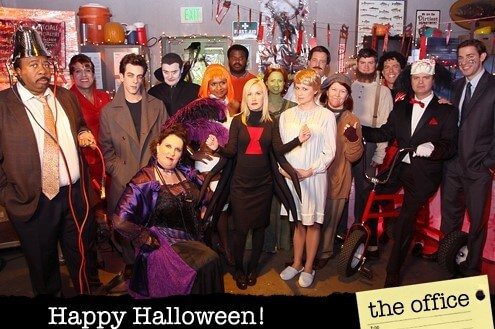 Be wary. An inherent problem with creating a costume contest is the people's feelings getting hurt. Even though we'd like to hope that everyone has grown up since high school, popularity contests and office politics can quickly change a fun event into a Monday morning HR seminar. Be caring and creative, make multiple categories for voting so it's not a "one winner takes all" event. It is also imperative to establish guidelines for appropriateness of costumes. There is no reason for people to cross the line and create an offensive or uncomfortable situation. Have fun but be respectful.
Fall Feast
The Fall season, for food, is fantastic! There is a huge range of delicious Fall foods that can warm up your employees from the inside out and bring in, arguably, some of the best aromas known to man. Encourage the Emeril's in your office to show off their cooking skills to coworkers and bring in food for the office to enjoy. Although Trick-or-Treat is the tagline when it comes to Halloween at the office, treats and sweets aren't the only options when it comes to food during this season. Try to create some healthy foods that are Halloween themed. You have heard of bobbing for apples, haven't you? A healthy, festive option that is sure to provide a few laughs along the way.
Ghostly Games
There are so many festive activities and games for you and your employees to participate in to really get a chuckle and bring the whole team together. Here are a few to get your ideas going for your event.
Costume Parade
Bobbing for Apples
Pumpkin Carving Contest
Halloween Trivia
Show off Your Company Culture
Don't forget to take this opportunity to show everyone how fun your company is. Halloween at the office provides so much holiday content for your social media. Your clients will love seeing that the people they are paying are actually humans. Having fun makes working hard worth it. Enjoy your Haunted Halloween at the office.