Just about everyone knows that LinkedIn is one of the top social networking sites for professionals. With so many marketing opportunities, both in the realms of personal, professional promotion and social media marketing for businesses, it's important to make sure you're up to speed with all the best LinkedIn Tips.
LinkedIn Tips to Present Yourself Professionally
Pictures Provide Personality
Just like every other popular social media site out there, LinkedIn allows its users to add a profile photo. All too often, LinkedIn members neglect this feature. Adding a picture of yourself is a great way to personalize your profile a bit. It's important to remember that LinkedIn is a professional social network, so you're better off using a business-appropriate headshot as your photo rather than a photo of you after having a few too many drinks on a night out.
Collaborate With Colleagues
A few years back, LinkedIn introduced a feature called Endorsements, which allows users to give other connections props for their professional skills. Recognize your coworkers, both past and present, for things they did well and they'll likely give you some Endorsements of your own. Building up a large number of Endorsements on your profile is the perfect way to add to your professional credibility.
Recreate Your Resume
One of the most valuable LinkedIn tips is one that's often overlooked. You know by now that LinkedIn is a place to show off your qualifications, but it also allows you to create an actual resume based on your profile. Instead of spending frustrating hours formatting your resume on a Word Document, LinkedIn provides templates based on your preferred style, whether it be classic, modern or anything in between. Also, the content of your resume will automatically be fetched from your profile. So, all you have to do is pick and choose the information that's shown and arrange the order in which it's displayed.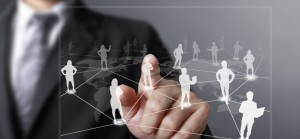 LinkedIn Tips to Liven Up Your Business' Marketing Strategy
Quality Over Quantity
Saying quality over quantity may seem like beating a dead horse at this point, but it's one of the most important LinkedIn tips for social media marketing. With sites like Facebook and Twitter, it's great to post fun updates and content to sell your brand. However, when it comes to LinkedIn for business, your goal is to build authority in your field so people will flock to your brand as a source of information. The majority of your LinkedIn posts should involve compelling and informative content.
Target Company Status Updates
Though Twitter and Facebook also allow you to choose target audiences for your posts, LinkedIn makes it even easier to pinpoint the right people. With LinkedIn's targeting options, you can address audiences based on company size, industry, job title, seniority, geography and much more. If you want to hand deliver content to the people who are most likely to respond to it, you'll love LinkedIn's targeting techniques.
Get Innovative with Industry Groups
To really establish yourself as a thought leader in your industry, think about creating a LinkedIn Group for others to join. You can create a group based on an industry-related topic. If it grows, you can bounce ideas off the other group members. You can also directly email members of your group, which will work wonders for your email marketing campaign. Don't hesitate to join other groups, either. Participating in industry discussions will only broaden your horizons!
With these LinkedIn tips, you can leverage yourself as a marketing mastermind. If you have any other questions about how LinkedIn can help your personal brand or your business, feel free to contact the Fat Guy team at 516-535-5353 or sales@fatguymedia.com.