You can't go anywhere today without seeing a mobile phone. In fact, there are more mobile phones in the world than human beings. As their use explodes, businesses without a mobile friendly website may be missing out on one of the largest segments of the population.
Why Mobile Friendly Design is on the Rise
Today, nearly two-thirds of all Americans are smartphone users. That's more than 200 million people who search the mobile web for places to eat, things to buy and companies to do business with. Since many potential customers are viewing your website on the run, there are no excuses left not to be mobile friendly.
Mobile Shopping is Increasingly Popular
Eighty percent of consumers regularly use their smartphones to shop online. With features like adaptable designs and payment gateways, Ecommerce sites are booming.
When mobile users aren't shopping online, they are likely looking up entertainment, like restaurants, movie theaters or bars. These potential customers are valuable, because they are often closer to the decision stage of the Buyer's Journey. Eighty-eight percent of those consumers who search for local businesses on a mobile device either call or go visit that business within 24 hours.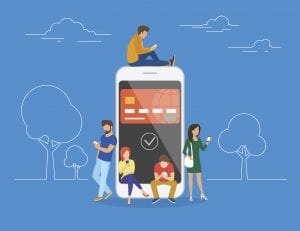 Better User Experience
To reach today's sophisticated customers, websites are now focused on user experience. They adapt to any screen size while keeping easy navigation and sharp imagery intact.
Since the average smartphone screen is about four to six inches in size, a website designed for desktop viewing will never fit the dimensions properly. Mobile friendly web design is the answer to making any site look and perform at its best wherever it may be seen.
Boosts Search Engine Visibility
Google gives preference to responsive sites in its search engine results pages. Conversely, the so-called Google Penalty has been known to cause a business' web traffic to plummet. With mobile searches outnumbering desktop searches, mobile friendly websites are likely to continue to climb in search engines throughout 2017.
As companies compete for business in the New Year, the mobile web is expected to be the pivotal place to attract customers.