2016 was great for us at Fat Guy Media, but we're ready to close it out and ring in the next year. We're excited for all the new opportunities 2017 will bring, especially these seven web design trends.
7 Web Design Trends We Expect to See
1. Animations
Short animations and GIFs have become increasingly popular as mechanisms for drawing a viewer's eye to a specific part of a webpage, but they will likely become even more prevalent in 2017. Quick, crisp animations can communicate ideas more clearly than videos and even text, making them useful for any type of website.
2. Micro-interactions
When your mouse hovers over a button or some other element of a website, and you see it slightly move, you're witnessing a micro-interaction. This also occurs while you're scrolling and clicking on some sites.
Those subtle movements are satisfying to the eye because they lend a website a more tactile, interactive feel. Something that users want.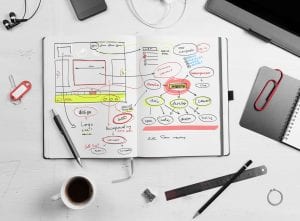 3. Landing Page-Centric Sites
One of the top web design trends of 2017 will be the direction of traffic to specific pages of sites.
Though every website needs a homepage, many visitors already have a certain purpose in mind as they navigate a site. By guiding them to landing pages that contain content and offers catered to their interests, the site becomes much more user-friendly.
4. Responsive Design
We've been preaching about responsive design for years now, but there is still a remarkable amount of businesses that don't use it.
The fact of the matter is that mobile phone users will simply disregard websites that don't conform to their devices. If a website takes too long to load, they're just going to find another one. And with the sheer number of people who primarily browse the internet on their phones, that could mean trouble for any business that's behind the curve.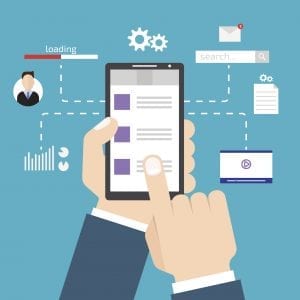 As more businesses realize just how important a digital presence is, they're going to understand the power of responsive design.
5. Duotones
On both webpages and incorporated into marketing campaigns, duotones have become nearly inescapable. These halftone images are vibrant and attention-grabbing, making them one of the top web design trends for 2017.
Duotones take an image and replace all of its shades and hues with just two colors. See the image below for an example.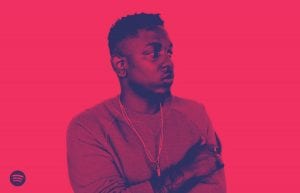 6. Material Design
Material design takes cues from flat design, yet also uses "tactile realities" such as surfaces, edges and rationalized space to provide a simple yet immersive experience across all device sizes and platforms.
As Google's material design approach gains traction, it's likely more designers will follow this web trend.
7. Shortened Menus
The average human mind can process between five and nine items in its short-term memory. So, for a long time, web developers followed this rule when it came to the maximum maximum number of items on any given menu.
However, that's changing. In an effort to provide an even better user experience, many businesses have reduced their menu sizes to three or four items.
These web design trends will affect the online presence of many businesses in 2017. We're excited to see what other new design features pop up as the year goes on!