Due to the major success of Instagram Stories ads, the creators have decided to follow suite with Facebook Stories ads. Facebook has described their Stories as, "a full-screen creative format that enables people to view and share everyday moments via photos and videos that disappear (unless saved) within 24 hours." Facebook Stories are important for advertisers because they have a way of grabbing an audience's attention in a more trustful way that other forms of content cannot. 

What are Ads on Facebook Stories?
Facebook Stories are photos or videos that users create and upload to their profile, for a short period of time. An advertiser now has the ability of inserting either a 15-second video ad, 5-second image ad, or a 45-second aggregated carousel ad, throughout the organic stories you see posted by your friends and family. For advertisers, this means another way to reach new potential customers at a low cost yet effective technique. Facebook currently has 300 million daily users, which is a significant audience size for any business, but especially for the smaller businesses.
As of right now, users can swipe through the ads to skip. However, Facebook may change the swiping motion to become a CTA, which will then land the user on the advertisers landing pages. These ads are meant to allow advertisers to continue gaining:
Brand awareness
New potential customers
Video views
Conversions
App installations
Traffic
Lead generation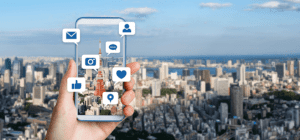 Tips for a Successful Facebook Ads
Whether you have used Instagram Stories ads before or you're just starting out with Facebook Story ads, there are a few tricks to get the most success out of them:
Show product demos
Experiment between the three types of posts you can use
Keep it brief
Use sounds
Your audience is now consuming Stories content faster than any other mobile format. Kay Hsu explains that in order to adapt to this, advertisers should be using speed within their Stories, as a creative element. It is an easy way for potential customers to understand what you are trying to convey to them and a good way to drive results for your business. A successful Facebook campaign is an efficient way to enhance and build a business.