Any business who uses social media as part of a marketing strategy understands the importance of linking to websites, including external sources. As, your social media following begins to gain traction, the time comes to consider whether or not to use a URL shortener.
What is a URL Shortener?
A URL shortener is an application that converts a regular website URL into a condensed one. The shortened versions are usually between 10 and 20 characters long.
Benefits of Shortened URLs
Share-ability
Say, for example, you're sharing a link to your blog. If you've done SEO properly, there's likely a long-tail keyword included in the blog's URL. That means the URL is probably a bit lengthy.
With a shortened URL, the link becomes more presentable and attractive. Also, abbreviated links are more likely to be shared on social media than long ones.
Data Tracking
URL abbreviation apps like bit.ly and our personal favorite, HubSpot, provide extensive tracking data on your links. Understanding the number of link clicks and gaining insights on the people who click them will help you create mre valuable content in the future.
They Don't Hurt SEO
Critics of condensed URLs often argue that they hurt your SEO since they don't contain your website name or any relevant keywords.
They're straight up wrong about that. Google's Matt Cutts explains the impact (or lack thereof) of abridged URLs on SEO in the video below:
Unique Branding Opportunity
If you feel so inclined, you can use shortening services, such as these ones, to create custom URLs, known as vanity URLs, which are related to your brand name.
For example, the New York Times uses "nyti.ms" in the articles they share on social media. When you click on a link that contains "nyti.ms," you know you'll be directed to the New York Times website.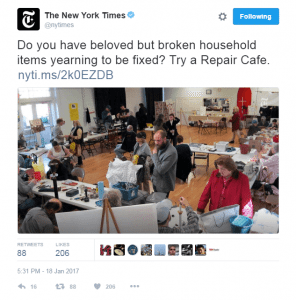 The Drawbacks of Shortened Links
Spammers Love Them
Link shorteners give spammers a way to disguise their links, drawing people to bogus websites filled with tabloid news and even computer viruses. People have caught onto this, and as a result, some cite shortened links as red flags of spam.
They No Longer Save Space on Twitter
In September 2016, Twitter stopped counting videos, images and links in the 140 character tweet limit. Businesses that employ link shorteners only for the sake of easily tweeting their content no longer need to use them.

You Can Get Analytics Elsewhere
Some people contend that most social media sites on which you'd normally share condensed links offer enough analytics, making the data provided by shortening services unnecessary.
While you can certainly get some solid data directly from most social networks, the Fat Guy mentality dictates that more is always better. Combining the stats from Twitter Analytics and HubSpot gives you much more data to work with than just Twitter alone. So this point falls short, though it's not necessarily wrong.
Ultimately, it's up to you to choose whether or not a URL shortener is right for your business' marketing plan. At Fat Guy Media, we prefer using HubSpot because of how convenient and user-friendly it is. Whatever your preference, we hope this blog helps you make an informed decision!