Almost everyone knows what hashtags are by. Those little # signs you see all over social media are used to index content so users can find it more easily (we're suckers for the #foodbeast tag). But just because you know what they are doesn't mean you know how to use hashtags the right way. Allow us to explain.
Picking the Proper Hashtags
Before understanding how to use hashtags, you should know which ones to use. There are a few ways to determine this.
Guessing and Checking
The best way to get your hashtag strategy off the ground doesn't require much effort. Just type hashtags related to your industry into the search bars of each social media channel and see how often they're used. For example, #inboundmarketing and #webdesign are hashtags we use regularly because they're services we offer, and they're popular on all social networks. Easy.
Research
There are numerous available research tools that provide insights on hashtags you would never have even thought existed. Some common ones include:
Note that most hashtag tracking tools only pull data from Twitter. However, most of the time, hashtags that are popular on Twitter are popular on the social media other channels, too.
Check the Trends
In order to get involved in conversations that are happening in real time, check the trends section on Twitter. Additionally, most of the hashtag research tools mentioned above also provide information on trending hashtags.
Play like the Pros
Is there a company in your industry that's great at marketing? Stalk their social media. Don't copy them word-for-word, but look at the hashtags they use. It could generate a spark of inspiration for your own business.
Make your Own
If your business boasts a highly-engaged social media audience, create your own, branded hashtag. This way, when users post things related to your company, they can use it, which gives you more exposure. Kind of like our #FatGuyApproved hashtag.
How to Use Hashtags: Etiquette for Each Channel
So now that you've gathered a couple of hashtags, let's discuss how to use them depending on which channel you're posting to.
Pro tip: Jot down your hashtags in a Word Document, the notes on your phone, a piece of paper—it doesn't matter. Just save them somewhere for future posts. It will make your life much easier.
Facebook
The overall consensus is that Facebook hashtags don't really boost post engagement. But, they also don't lower it. The choice is yours.
Our advice: don't use more than two per post or it looks like you're trying too hard.
Twitter
Though Twitter was the first to adopt the hashtag, it doesn't mean you should go wild hashtagging every word of every tweet.
Again, stick to one or two tags per tweet. Engagement is better that way.
Instagram
Instagram tends to be the most hashtag-friendly network, with some studies finding that posts with 11 or more hashtags receive the most engagement.
Using a lot of hashtags can look spammy, though, so we recommend hiding them. To do this, use a hashtag-less Instagram caption. Then, open a text editor on your phone (it won't work if you do it on Instagram) and type five dots, each separated by a line break. Add your hashtags. Finally, copy and paste the finished product and comment it on your own post. It should look like this: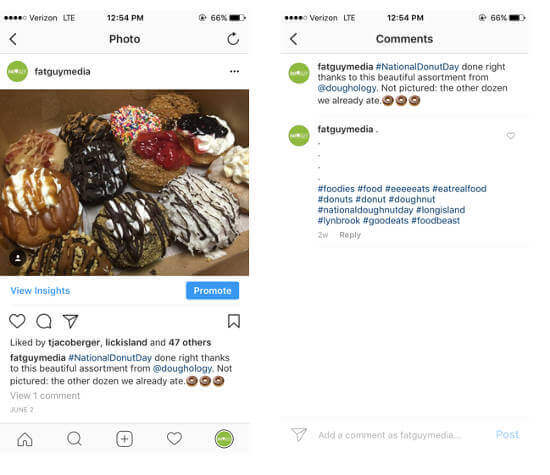 LinkedIn
LinkedIn only recently began supporting hashtags again after disabling them for a while. Stick to one hashtag per post or you may seem unprofessional.
Before we conclude this guide, we have one final recommendation. #Do #not #hashtag #every #word #of #a #post #like #this. Model your posts after one of the following examples: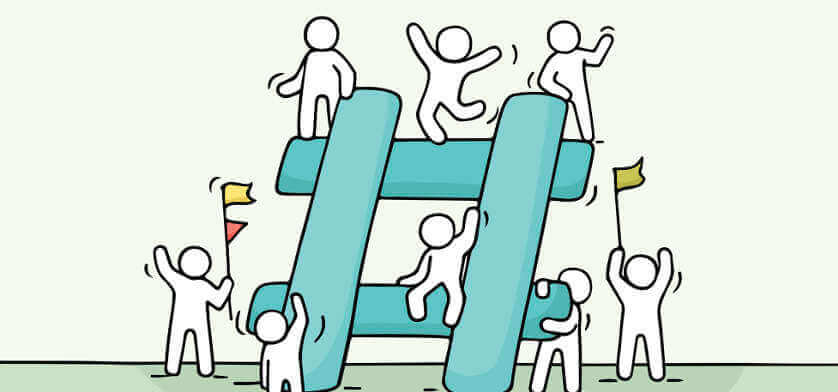 Now that you know how to use hashtags, get out there and get your brand the social media exposure it deserves!