Snapchat, a popular app with 186 million active users, has become a great place for marketers to go to reach a younger audience. On this social media app the audience has the capabilities to share photos, text and videos that'll disappear within seconds. Snapchat marketing has released a new business hub to provide help to businesses during COVID-19.

Snapchat Marketing Business Hub
The app features a stories section where users can post a photo or video that will remain there for all of their followers to view, for up to 24 hours. The stories section is the perfect spot for Snapchat marketing. It gives businesses a place to connect with their audience.
In an effort to help marketers during the coronavirus pandemic, Snapchat released a new COVID-19 business hub. This new hub includes a range of resources, insights and links that will assist marketers in managing the pandemic and continue to connect with their audiences amid the crisis.
Between downloadable resources and webinars, Snapchat is offering a way for people to stay informed on current events while also giving their audience a way to stay connected with family and friends virtually. Snapchat is not just offering a place for resources for COVID-19, they are also providing an easy way for people to donate to the coronavirus relief fund through augmented reality.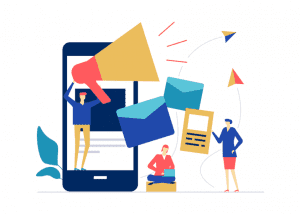 Snapchats Sent are at an All Time High
With more snapchats being sent than ever before, this is the opportune time for marketers to get their messages seen by a new audience and join Snapchat marketing. New Snapchat groups have grown to an all-time high. The calling and video chat features have also seen increases as well. Between late March and late February there has been an increase by over 50 percent.
Many consumers are turning to visual communication to stay connected to friends and family while self-quarantining. Businesses need to adopt the same way of communicating in order to stay connected with their audience. With Snapchat gaining popularity during these unprecedented times, this is a good way for companies to continue reaching their audience.