Building a community on social media is a great way for you to connect with your followers and encourage engagement with your brand. Social media gives companies the ability to build relationships with customers and spread brand awareness. Read along to learn ways to grow your social media audience.
8 Ways to Grow Your Social Media Audience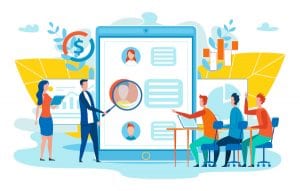 1.  Research Your Target Audience
Social media can help you reach your target audience in ways your business couldn't do before. Researching your target audience will provide you more insight on how to target your customers. This can be done by researching competitors and building customer personas. This will help you create content that your target audience will value and get them to engage more with your brand on social media.
2. Make Visual Posts
Adding eye-catching visuals is a great way to gain your audience's attention. Whether that be a picture, a video, or a GIF, it will help you better engage with your audience. Videos are also the most engaging type of content on Instagram, and tweets with videos have 10 times more engagement than those without.
3.  Use Hashtags
Hashtags and tagging are two easy and effective tools that brands should incorporate into their social media strategy. Hashtags can help your target keywords stand out and will also let you connect with non-followers who are looking for similar information. Using popular hashtags like #TBT (throw-back Thursday) #FlashbackFriday and #MondayMotivation will help people who are searching for the same hashtag come across your post.
4.  Tag Your Posts
Tagging on your social media lets you connect your profile with other social media accounts whether that be an individual, company or event. This also helps attract people to your page who aren't following you already. A simple way to start engaging with tagging is to tag a customer who left a positive review and saying how much you appreciate their review.
5.  Create Engaging Content
Creating valuable and interactive content is a great way for you to not only engage with your current loyal followers but also reach potential customers. Companies like Whole Foods Market leverage user-generated content, which promotes community engagement while boosting their social media performance. It's a great way to expand your social media presence and show engagement with your followers.
6.  Update Cover and Profile Photos
The first thing people see when they visit your account is your profile and cover photos. Make sure your profile picture and banner are standard sizes for each platform, visually clean, and formatted correctly. It's recommended to change your Facebook, Instagram, and Twitter profile and banner photo at least once a month. Use this as an opportunity to showcase your great work to your social media audience.
7.  Hold Contests and Giveaways
Giveaways are an excellent opportunity to increase your social media audience and get new people to like and follow your account. Some examples of social media contests include:
Comment to win
Best photo contest
Fill-in-the-blank contest
Caption contest
8.  Engage with Your Audience
On average, 83 percent of Facebook followers and 71 percent of Twitter followers expect a business to respond within 24 hours of asking a question. You must be actively engaged and respond to questions or complaints that are left on your page. If your company is planning on engaging, you must set time aside to respond to complaints and have criteria on how you will respond to inquiries and complaints. Companies that reported doing this said that it helped improve their social media reputation.
If you're looking for ways to grow your social media audience, but don't have the resources needed to handle these efforts, contact our team of social media experts to guide you through the process.