When it comes to web design and content management, the list of options is almost endless. From Hubspot to WordPress to Wix, it can be tough to know which one to pick. To help you make the right choice for your organization, review our guide to the leading CMS websites.
What are CMS Websites?
A Content Management System (CMS) is a type of web application that lets you publish and manage content on a website easily and efficiently. It can be used to update existing web pages; publish new blogs; conduct Search Engine Optimization and more.
What to Expect from a CMS
Although DIY is always an option, CMS websites are currently the best solution for content management. These more complex platforms have many useful features that can help to enhance your online presence and your digital marketing, too.
For many Long Island businesses, CMS websites are the platform of choice, because they provide several important benefits, including:
User-friendly Content Development
Design Flexibility
Customization
User Management
Integrations
Support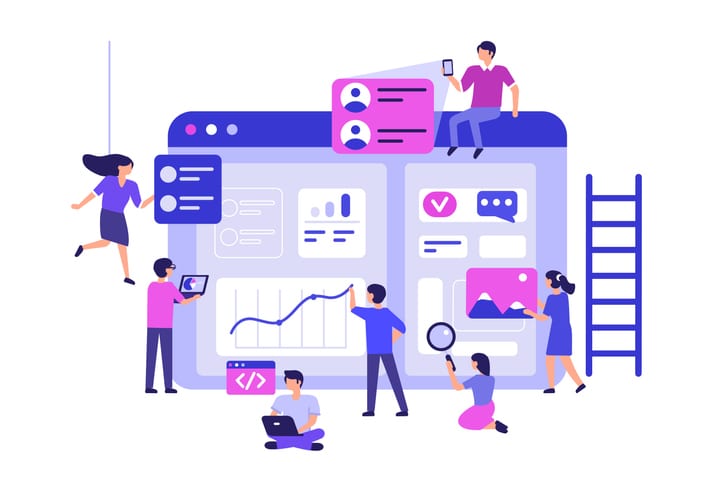 3 of the Most Popular CMS Websites
1)      HubSpot
Of all these options, HubSpot provides the most comprehensive solution for digital marketing. It is a platform that helps businesses around the world attract, engage and delight potential customers through inbound marketing.
HubSpot goes a step further than some other CMS websites. It provides tools for social media marketing, content management, web analytics and search engine optimization.
2)      WordPress
If you have heard of one of these CMS websites, it's probably WordPress. This content platform has been used to create more websites than any of the other CMS websites on this list.
WordPress is a tool that lets businesses create and update personalized websites of all shapes and sizes. It also comes with built-in optimization and responsive, mobile-ready themes. WordPress sites typically provide an excellent foundation for the creation of marketing campaigns.
3)      Wix
Wix is a content management solution, which can work well for a business that chooses to be non-indulgent in the design of its website. This digital platform gives companies simple tools to create, design and manage a unique website presence.
Wix uses templates to create websites that can be customized to fit a brand's personality. Of these three CMS websites, Wix is generally considered to be the lower-end alternative. Many businesses' first websites are built on DIY platforms, like Wix, before they upgrade to a more comprehensive web design solution, like HubSpot or WordPress.
When designing or redesigning a website, your business has no shortage of options. Although all three of these CMS will get the job done, your business will notice the difference when working with HubSpot.