A billboard is a large outdoor advertising structure that is typically found in high-traffic areas such as alongside busy roads. Billboard advertising provides an opportunity for a brand or company to reach a large audience including drivers, commuters and pedestrians. Find out how to get the most out of this effective advertising technique.
Advantages of Billboard Advertising in New York
Billboard advertising is another traditional advertising medium that is proven to still be effective today. As long as it is combined with a marketing mix of traditional and nontraditional media, billboards can help increase the reach and frequency of your overall campaign to a New York audience. This is an effective medium of awareness advertising, which your company or brand can benefit from in numerous ways:
A billboard ad helps to create brand or product awareness for your company.
A large advertising display helps deliver exposure to a wide and diverse audience all day, every day.
The over-sized, eye-catching billboard guarantees you an audience and allows a customer to find you.
The ability to continuously and frequently convey a message to the public within five seconds.
It provides a strong visual effect that allows people to easily register your message.
This advertising method is cost-effective in terms of how many impressions a billboard ad can produce.
Billboard Examples
Fat Guy Media recently put up its latest billboard ad on Jericho Turnpike in Mineola, Long Island. This billboard was strategically placed on a busy road, which has endless traffic throughout the day, especially commuters who drive past this location to and from work.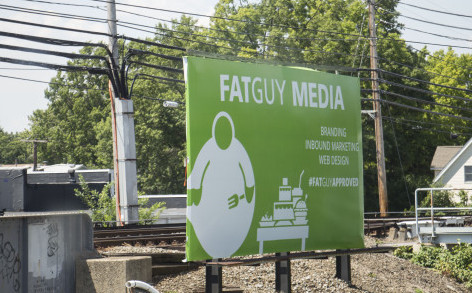 Contractors Insurance displayed an eye-catching billboard on the Major Deegan Expressway, located right near Yankee Stadium. They strategically placed their ad to try and capture the attention of their target audience, which was a success.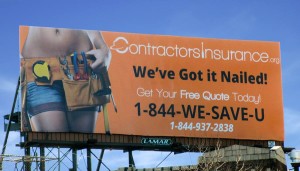 Billboard Advertising Tips
Customized Placement
Strategically place your billboard in high-traffic areas throughout New York, where it will receive the most impressions. With a presence in prime locations, your ad will be highly visible and impossible to miss, which is why Fat Guy Media chose to follow this key tip.
Simple Layout and Message
Less is more. The purpose of a billboard as part of your marketing campaign is to reinforce your message, so remember that consistency is key. Keep your message simple and straightforward, along with your logo or image.
Eye-Catching Design
Capture the viewer's attention and create an impression quickly by creating a billboard with a simple message and vibrant design. Be sure to use large and readable fonts that can be easily read from a distance. The key to easy readability is high color contrast. Fat Guy Media chose to use a bright green background with white text and imagery.
Pricing
Billboard advertising pricing in New York differs between Long Island, the boroughs and New York City. There are many factors involved, depending on location, size and the duration of the advertisement. If you need assistance with placing a billboard, Fat Guy Media is here to help.