Football is one of America's favorite pastimes. Fall weather, delicious food and fun with friends and family are just a few of the great things that come with football season. Since football is so widely watched and appreciated, it's no surprise that marketers have seized it as a perfect opportunity for promotion. Here are some NFL marketing tactics employed by both the league itself and its sponsors.
How the NFL Markets Itself
When it comes to marketing itself, the NFL is a lot like a young quarterback who's experiencing growing pains: they'll throw a few touchdowns in the form of positive campaigns like Breast Cancer Awareness Month, but then throw a quick pick six with their awful management of serious issues like domestic violence.
Breast Cancer Awareness Month
For October, which has been designated as Breast Cancer Awareness Month, the NFL has partnered with the American Cancer Society in developing "A Crucial Catch," a campaign centered around the importance of regular breast cancer screenings. Much of the pink gear you see worn by players and coaches during games throughout the month is auctioned off. The proceeds go to the American Cancer Society's Community Health Advocates, which implements Nationwide Grants for Empowerment and Equity (CHANGE) program. CHANGE grants funding for outreach, education and free or low-cost breast cancer screenings to underserved communities.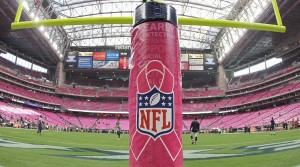 The 50th Anniversary of the Super Bowl
The 50th NFL Super Bowl will be held on February 7, 2016 at Levi's Stadium in Santa Clara, California. As if it weren't already a big enough event as it already is (seriously, plenty of people watch the Super Bowl just for the ads), the league has taken advantage of the Super Bowl's Golden Anniversary by developing some unique NFL marketing tactics to rebrand the big game for the year.
First, instead of the Roman numerals used to identify which number Super Bowl is occurring, the league has opted to use standard numbers. This year we won't see Super Bowl L, we'll see Super Bowl 50. According to the NFL, for the 51st Super Bowl, the Roman numerals will have returned.
The NFL logo you see at the 50-yard line is painted gold in all 31 NFL stadiums this year, reflecting the Super Bowl's Golden Anniversary. Not by coincidence, Super Bowl 50 will be taking place in the Golden State of California. This year's Pro Bowl uniforms will also have gold trim.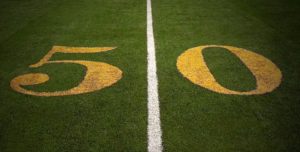 League Sponsors Throw Touchdowns with NFL Marketing Campaigns
Much like two-time MVP Aaron Rodgers' throws to Pro Bowl wide receiver Randall Cobb, the NFL marketing done by the league's sponsors is often calculated to perfection. By drawing on brand ambassadors, clever caricatures of passionate fans and team-inspired memorabilia, league sponsors have scored plenty of points in our book.
Nationwide Insurance
Nationwide Insurance has done a great job of taking one of the league's top brand ambassadors, Peyton Manning, and creating a campaign that has been recognizable across seasons. The Nationwide and Peyton Manning collaboration features commercials that show the legendary quarterback going about a typical day, doing everything from calling signals in practice to eating a chicken parmesan sandwich, and speaking only in tune with the popular Nationwide jingle: "Nationwide is on your side." This was a familiar campaign in the 2014 season and it's back again for 2015.

Hyundai
Hyundai has done a great job of playing on what it means to be a zealous fan. They've created a commercial in which a wife walks into her front yard to see that her husband has taken part of their picket fence to the Cardinals game (again) in order to make a sign that says "defense" with his buddies. As he's pulling the fence out of the trunk of his 2016 Hyundai Tucson, he gets a call from his wife, who ends up agreeing to let him and his buddies have a little bit of fun, as long as he brings back the fence. Because who doesn't love football, right?

Bud Light
This year, you can find the logos and colors of 28 NFL teams (excluding the Chicago Bears, the Dallas Cowboys, the Green Bay Packers and Minnesota Vikings because of their MillerCoors sponsorship) on Bud Light cans. Beer drinking has been associated with football for quite some time now, whether it's in the living room in front of the big screen TV or at the bar with friends. This is just one of many ways that big brewers have capitalized on NFL marketing.

As an advertising agency, the Fat Guy Media team loves seeing the marketing tactics that are used throughout the NFL season. We're especially excited for the Super Bowl 50 commercials that the league's sponsors and other marketers will create.