Over the past year, Twitter has been searching for a way to find new users and increase its ad revenue. According to Mashable, Twitter shares have lost around a third of their value since the company's initial public offering in November 2013. Former users complained that the social media platform was too difficult to use and understand, which resulted in a major loss of users. With over hundreds of millions of tweets a day, Twitter Moments will curate the best of what's happening on Twitter each day.
What Are Twitter Moments?
Twitter Moments are curated collections of tweets, videos, images and coverage of live events. It will easily allow users to view the best of what's happening on Twitter and be able to follow stories, not just other user accounts. The overall purpose of creating this new feature is to make it easy for those users who do not understand how to use Twitter. Users will be able to find interesting, compelling content in an easy-to-consume way.
Easier, More Delightful Experience
According to a Twitter rep, their newest feature, Twitter Moments provides "better discovery for an easier, more delightful experience for users who haven't been able to find value thus far". Instead of having to follow certain users in order to find out what's going on, you will have access to the most important stories and events that are taking place on Twitter each day.
How Do Moments Work?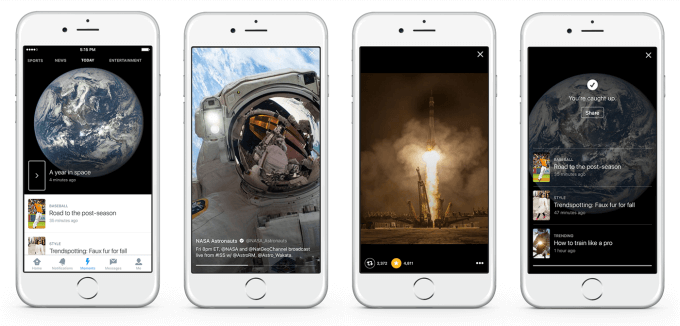 You will see a lightning bolt icon next to your notifications and messages.
When you click on the icon you will discover the best of what's happening on Twitter.
The stories will be updated throughout the day, but it will feature everything from live events, breaking news, celebrity conversations and more. You also have the option to swipe through stories that are related to topics that you are most interested in.
When you click on a Moment (or story) you will be taken to its specific timeline that will feature an introduction, title and description.
The Moment will continuously go through recent stories in the form of photos, videos and animated GIFs.
Once the Moment is over, the relevant tweets will stop appearing on your Twitter timeline and it will go back to normal.