Is it possible to get your product or service to sell itself? Yes, as long as you attract the right traffic to your site, which would be your buyer personas. This can be completed successfully if you share relevant, helpful content to the right place at the right time. Learn how to "attract, engage and convert" visitors into customers by practicing the following inbound marketing strategies:
Inbound Marketing Strategies
Blog
When the right keywords and content are used, searchers will find your blog, which will lead them to your website. This will increase ranking, traffic and give authority to your company or brand. The content posted on your blog can be easily shared with a reader's social network, re-posted or referred to via an inbound link on another blog or website.
Content should be educational and entertaining
Add a CTA (call-to-action) to direct the reader to a landing page for an offer
Update blog consistently with quality information
Focus on one topic per blog post
Optimize content (SEO tips)
Stick to quality over quantity (one amazing post is better than four average posts)
Email
Email marketing is not only one of the most cost-effective inbound marketing strategies, but it also helps to enhance lead quality and drive traffic back to landing pages. It provides measurable ROI and data analysis, so that you can see what can be improved for future e-mails (ex. subject line).
Stick to a template that is visually appealing and easy to read and understand
Make sure it's responsive so it can be viewed on any size device
Segment your distribution list(s) in order to provide the right content to the right people
Personalize e-mail with recipient's name, relevant content and your name and contact information in the signature
Effective e-mail marketing example: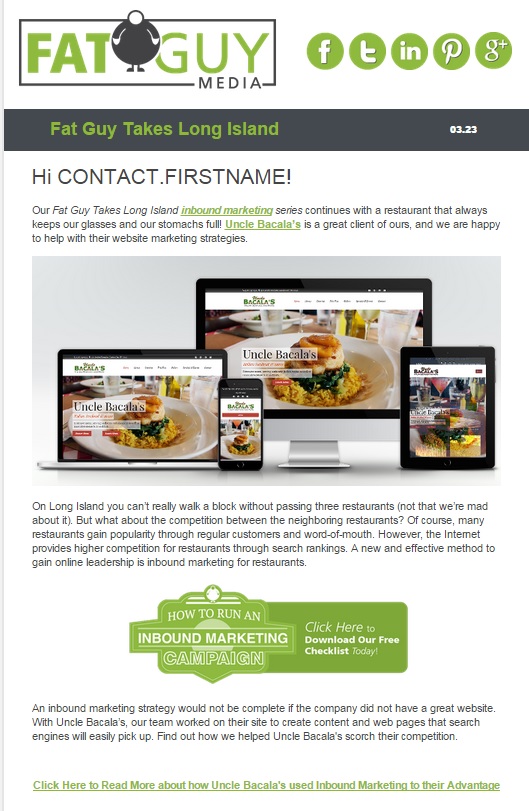 Social Media
Using social media as one of your main inbound marketing strategies, will help to build reach and connect with users on a "human" level. Your company or brand can provide updates and news directly to followers, while maintaining engagement and one-on-one communication.
Use this as an opportunity to ask and answer questions
Promote your content with influencers who will share your message to others in their network
Schedule updates in advance (to remain consistent)
Mix up your content: articles, quotes, infographics, photos, videos, etc.
Top four social media platforms: Facebook, Twitter, LinkedIn, Instagram