Creating a brand isn't as simple as it may seem. A strong brand can be what distinguishes you from your competitors and helps elevate your products or services. Whether you're creating a business from scratch or want to rebrand your existing business, here are a few branding tips you need to know to build a strong brand identity.
Top 7 Branding Tips From a Professional

1. Research the Competition
The first of many branding tips is to start researching your current competitors. Start by looking up other companies that are targeting the same market as you. Check your competitors' websites, social media platforms, and take note of their strengths, style, and tone. These observations will go a long way when you try to differentiate your business.
Research Your Target Audience
Your brand determines how your business will be perceived in the minds of your target audience. Creating buyer personas that are fictional representations of your ideal customers will help you understand who your customers are and make it easier for you to create a brand that addresses their needs.
Choose A Business Name
When choosing the perfect name for your business, look for a name that is short, easy to pronounce, memorable, and reflects your brand personality. Search your name on social media platforms, search engines, and see if it's still available as a domain name.
Build Your Brands Voice
A brand voice is your business's style of communication. This is how you talk and write to your audience. Your voice represents your brand personality and should be on your website's written content, social media, email marketing campaigns, and clients' face-to-face interactions.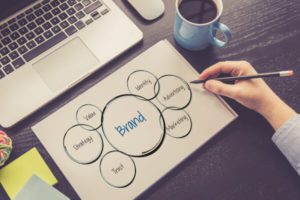 Create a Catchy Slogan
A catchy slogan can make a strong impression on customers and help boost brand awareness. Keeping it short and simple is key. Some of the top advertising slogans of all time are Nike-"Just Do It." and Dunkin'- "America Runs on Dunkin'."
Design Your Brand Logo
Your brand logo is probably one of the first things potential customers see for your business. You want your logo to be unique, identifiable, and scalable. Some examples of the most famous types of logos are Wendy's mascot logo, Starbucks emblem logo, and Apple who simplified their logo to a literal apple. Logos help your brand stand out and become memorable to your customers.
Apply Your Branding Across Your Business
There are countless branding tips, but the most important tip is consistency. Applying your brand across your business is key to developing brand recognition because the more frequently people see your brand, the more likely they are to remember it.
Here at Fat Guy Media, we pride ourselves on our branding tips and being a trustworthy branding agency! We have the expertise to build high-quality websites as well as create in-depth marketing campaigns for your business. Get in touch with us to get started!