The 2015 World Series is upon us. The Mets, hailing from Fat Guy Media's home state of New York, are taking on the Kansas City Royals. Just like those champions of National and American Leagues would never have made it to the World Series without a well-rounded team, an inbound marketing campaign would strike out quickly without incorporating all the necessary aspects.
The Inbound Marketing World Series Dream Team Roster
Catcher: Web Design
When you create an incredible inbound marketing campaign that compels customers to come flying to your website faster than a heater flung straight from the right hand of Noah Syndergaard, you don't want them to click away to another site. The right web design is the perfect catcher to prevent customers from flying past your website—an error on your part that will lead to runs scored for your competitors. Remember: there's no backstop in the big leagues.
First Base: SEO
The ideal first baseman is someone who's able to stretch for inaccurate throws and pull them in to make the play. With the right SEO, you can reach every customer who punches your industry into a search engine and reel them in to your website.
Second Base: Search Engine Marketing
Second base is a position vital to turning an infield blooper into a double play. Combining SEO and search engine marketing is the perfect way to double your chances of bringing in potential customers who are clicking through search engines, especially when using retargeting techniques.
Shortstop: Social Media Marketing
The shortstop is the core of the infield, just like social media marketing is at the core of a great inbound marketing campaign. A shortstop must be able to make quick throws to any base on the field. Similarly, a successful social media marketer will throw content onto all social media platforms: Facebook, Twitter, Instagram, Google+ and more.
Third Base: Content Marketing
Without a solid third baseman, the infield falls apart. When right-handed hitters pull a line drive screaming down the third base line, the third baseman needs to make a play on the ball. An inbound marketing scheme will also fall apart without a strong content marketing plan that's able to make plays based on the interest of its target audience.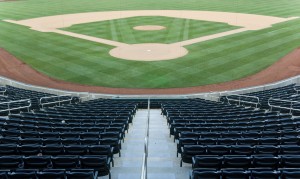 Left Field: Email Marketing
A great left fielder will be able to make throws from deep in the outfield to quickly hit the infielders, stopping base hits from becoming doubles and triples. The right email marketing scheme can help you reach countless customers quicker than a throw from Yoenis Cespedes reaches second base.
Center Field: Geo Marketing
Like the name implies, a center fielder plays in the center of the outfield. By introducing geo marketing to your business, you can center your business in the local sector. By using geo marketing, your business will have its correct contact information, hours of operation and more listed right in a search engine, making it easier for potential customers to learn about you.
Right Field: Video Marketing
The right fielder is a totally underrated position, just like video marketing is an underrated inbound technique. A right fielder will have to field the shots that left-handed power hitters pull their way and also make tough throws to hold runners to their bases. Like a right fielder, videos are versatile—they can be shared easily, are very engaging to viewers and can showcase anything about your company, from its products to its culture.
Pitcher: Fat Guy Media
The ideal pitcher for the World Series of Inbound Marketing is someone who can both strike out the competition and make the most of the fielders surrounding him. Who better to get that job done than the veteran Fat Guy Media, who boasts years of inbound experience under his belt? If you want to pitch a perfect game of inbound marketing, feel free to give Fat Guy Media a call at 516-535-5353 or throw an email to sales@fatguymedia.com.