With so many companies online trying to reach a similar audience, it's imperative for your audience to be able to differentiate your company from all the others. A way to go about this is to enhance your digital customer experience, so yours is the first to come to mind. Your digital customer experience can help you understand how your customers interact with your brand online.

Benefits of an Enhanced Digital Customer Experience
Consumers are accustomed to being able to get what they want when they want it in terms of online material. With so much information available to them at a moment's notice, between apps, mobile devices, automation and much more, they have little patience for companies who have little to no online presence. That is why an enhanced digital customer experience is beneficial to your company.
For the Sales Team, eliminates the need to cold call. Instead, find your customers before they find you by using social. Here you can build a personality for your brand and relationship with potential leads. Educating them and sharing relevant content will prove your expertise in your field.
For Customer Service teams, the ability to release news and events quicker than ever. It's easy to get ahead of things and be proactive in all events. Social media, review sites, forums and communities are a great way for customer service representatives to get ahead of the curve.
Finally, Marketers will be able to reduce their offline budgets, such as billboards, TV ads and direct mail. By following the buyer's journey, you can give your customers the information they need at the stage they are at with email marketing or account-based marketing; easing them down the sales funnel until they become a successful lead and buyer.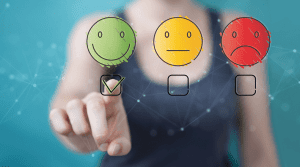 Three Ways to offer a Great Digital Customer Experience
1.      Get to Know Your Customers
If you don't know who your customers are then it's impossible to provide the relevant information they need and satisfy their digital customer experience.
2.      Educate your People
If your marketing team doesn't understand why digital marketing is so important these days than your company will have a hard time providing the applicable information to potential leads.
3.      Review and Optimize your Digital Assets
Review your website! Making sure that your audience can find your site easily on search engines, and provide a good user experience. If your website isn't optimized properly, you'll be hard-pressed creating organic leads. If your site is outdated, the audience that is able to find you will exit your website just as quickly as they came because it creates a negative digital customer experience.