There's no magic formula for going viral online. What we can do, however, is look at past viral marketing campaigns and tease out what made them so special.
3 of our Favorite Viral Marketing Campaigns
Straight Outta Somewhere
Straight Outta Compton, the biopic storying the rise and fall of Los Angeles rap group NWA, was one of the most highly anticipated films to hit theaters in 2015.
In partnership with Beats by Dre, the "Straight Outta Somewhere" meme filter that played on the title treatment of the movie was launched. The filter encouraged users to enter their own city's name over a photo of their choice. This made it more about being proud of your roots and less about over-the-top product promotion.
The results were excellent. The campaign garnered millions of website visits for Straight Outta Compton within just 24 hours, and a staggering amount of social media engagement.
Do Us a Flavor
In 2013, Lay's potato chips launched a viral marketing campaign called "Do Us a Flavor," in which people submitted their ideas for new flavors over the internet each year. A few finalists are chosen, and the flavors are actually produced and made available for purchase by the junk food giant.
The campaign empowers consumers by giving them a say in the product development process. People love the idea that their flavor could be packaged and sold in stores nationwide. Also, there's a monetary incentive that certainly helps—winners earn $1 million.
Lay's utilizes social media channels, Snapchat filters and influencers to stay crisp year in and year out. They've had millions of submissions and plenty of growth in their internet presence as a result.
Notable winning flavors include Southern Biscuits and Gravy, Crispy Taco and Cheesy Garlic Bread. As you may have expected, people around the internet also had fun submitting ridiculous flavors as a joke, such as Alligator, Regret and Mountain Dew.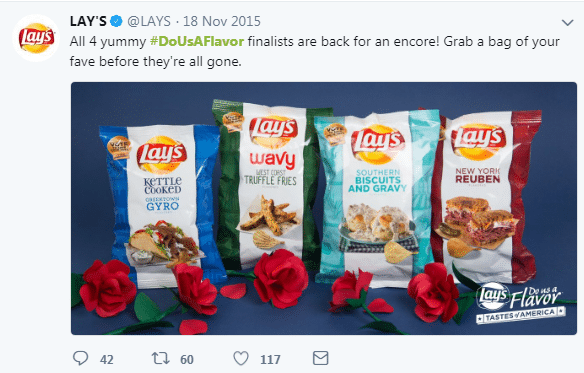 Eggo/Stranger Things
In the hit Netflix original series Stranger Things, Eggo waffles play a special role as the character Eleven's favorite food. As it turns out, there was no paid partnership between Eggo and Stranger Things at first. Eleven's love of frozen waffles during Season 1 of the series wasn't product placement. It was just part of her character.
However, during Super Bowl LI, there was a Stranger Things commercial that began as if it were an old "L'eggo my Eggo" commercial from the 1980s before being cut short by an actual Stranger Things ad. In case it's not clear: this was planned, not an actual mistake. The brands had finally joined forces.
Stranger Things then tweeted an "apology" to Eggo afterwards. Watch the conversation unfold below.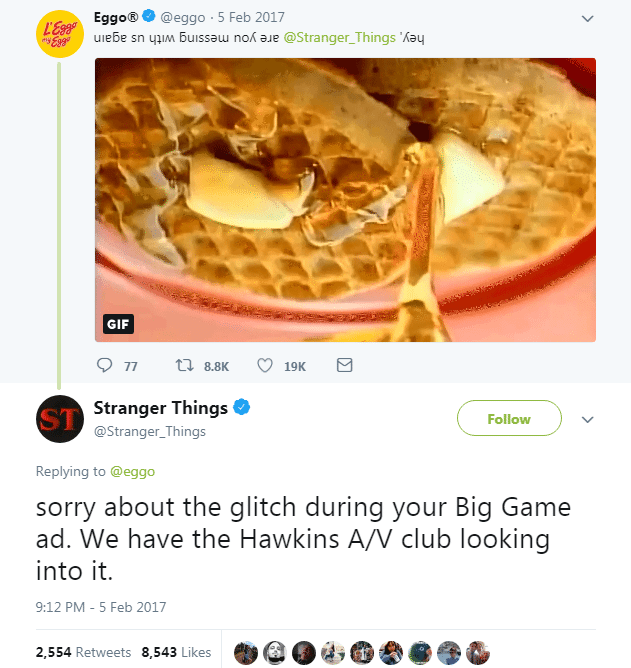 Stranger Things' 1980s aesthetic coupled with that classic "L'eggo my Eggo" feel put viewers into a time machine.
What are some of your favorite viral marketing campaigns from recent years?