Long Island is a booming business hub. No matter which field you're in, it's likely that there are several businesses similar to yours within a 20-minute drive. On Long Island, it's not enough just to have a website for your business. You need Long Island web design done right.
Long Island Web Design that Stands Out from the Crowd
Get on the Map
Getting on Google Maps is an absolute must for any business that wants to sell to consumers in their local area. By getting listed on Google Maps, useful information about your business will be at the fingertips of potential customers including:
Your hours of operation
Your phone number
Business reviews
Directions to your business
With this information so readily available, people will be enticed to contact you.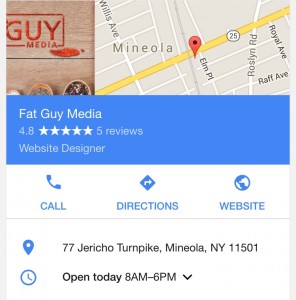 On-Site Points of Contact
While it's effective to have your business' contact information listed on Google, it's even more important to have your contact information visible on your website. Create a "Contact Us" page with detailed contact information including your phone number, email address, directions, hours of operation and anything else you feel is necessary. You should also include basic contact information on the footer of each page of your website. Making your contact information easily accessible to those who want it is more professional than throwing it in the face of everyone who visits your website.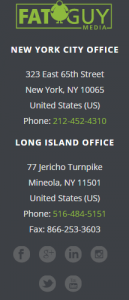 Localized SEO
Search engine optimization and web design go hand-in-hand. Optimizing for local search is especially important for a Long Island business. Unless you offer services that can be performed remotely, it wouldn't be a big help if people from the other side of the country were visiting your site. Localized SEO will bring the right traffic (in other words, the people who are most likely to make purchases) to your website.
Quick Load Times
Just like nobody wants to wait for a delayed LIRR train, nobody has the patience to sit around for five minutes while your website loads. If your website has a quick load time (under three seconds is ideal), you'll be more likely to convert visitors into customers.
Make it Mobile-Friendly
Mobile Internet usage has surpassed desktop computer Internet usage. That means responsive design is an absolute necessity in Long Island web design. A responsive website is one that is easy to navigate on desktop computers, tablets and smartphones. By providing a brilliant user-experience, your website will please visitors, not irritate them.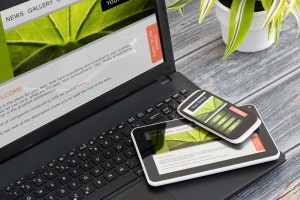 A Home-Base for Blogging
Inbound marketing is an incredible way to appeal to Long Island audiences, and blogging is a huge part of most successful inbound marketing campaigns. By adding a blog to your website and updating it regularly, you can both bolster your website's SEO and provide helpful content to your potential customers.
Create Clear Calls-to-Action
A call-to-action (CTA) is a piece of text on your website that encourages some sort of action from visitors. Oftentimes, a CTA will provide someone with valuable information in exchange for their basic contact information. Placing CTAs on your website can help you develop a better understanding of who your customers are and also expand your contact list.
Single-Page Sites
Most Long Island businesses are considered small businesses. Small businesses tend to work on a budget, and that's where single-page websites come in. A single-page sites is perfect for a business interested in cost-effective Long Island web design without all the bells and whistles of a multi-page site.
Since your website is the digital face of your company, it's important to have a site that stands out amongst competitors in the Long Island market.