Publishing long-form posts through LinkedIn is one of the best ways to promote your business to a professional audience. But great marketing is usually preceded by several mistakes. With these LinkedIn profile tips for publishing, you can avoid the error phase and begin wowing your followers.
LinkedIn Profile Tips for Publishers
1.      Don't Pack Your Content into One Long Paragraph
Writing a post for LinkedIn is similar to writing a blog. Though you have the ability to articulate long-winded thoughts, if you pack them into a single paragraph, readers will be turned off.
Segmenting text into short blocks based on different ideas you're presenting allows readers to skip around and read whichever parts are pertinent to them. Bullet points also work well in keeping your content easily consumable.
2.      Don't Write About Non-Industry Related Topics
There are plenty of social media platforms where it's appropriate to post funny articles that are entirely unrelated to your industry just for the sake of entertainment. LinkedIn is not one of them.
LinkedIn is sort of like the black tie affair of social media. It's meant to be classy, and strictly business. People use LinkedIn for career-related information, and you should anticipate that in your publications.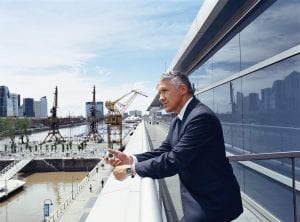 3.      Don't Center Your Content Around Yourself
This one may seem a bit counterproductive. You'd think that the top LinkedIn profile tips are all about optimizing your page around your own business. Instead of writing about yourself, write to your audience.
The best content is produced by businesses who really seek to help people, not just sell their products or services. Readers will easily detect when you're just selling to them, and opt not to read your piece of shameless self-promotion.
So, when we say not to center content around yourself, we mean that aiding your readers should be the main goal. You can (and should) write about the industry you're in, as long as you're providing valuable information to your readers.
4.      Don't Have Horrible Headlines
There are so many wonderful pieces of content that are condemned to never be read after the author commits an unspeakable headline sin.
It can be tempting to use a vague headline, thinking it will entice readers to read on and learn more. Maybe you thought of a clever pun that you feel works well as a title. Or, worst of all, maybe you believe an intentionally misleading headline will blow over well with your readers. Don't do any of that.
Instead create an effective headline that does the following:
Clearly demonstrates the value of the article
Uses actionable words

5.  Don't Publish Too Frequently
While there's no single optimal number of LinkedIn posts per week, most businesses can find a sweet spot with a little bit of experimentation.
But over-publishing should be avoided at all costs. If someone's feed is clogged with your posts, they'll probably become annoyed quickly. And, LinkedIn makes it easy to unfollow an undesirable page. So if you treat it like it's Twitter and post ten times a day, you can trust your follower count will diminish rapidly.
6.      Don't Forget the Call-to-Action
We'll end this list of LinkedIn profile tips by advising you how to end a LinkedIn post: with a call-to-action. Again, you don't have to design your call-to-action to make a sale. Instead, invite your readers to sign up for your newsletter, download an ebook or receive another valuable piece of content that benefits them.
Once you've mastered publishing on LinkedIn, your profile will look exponentially more professional and alluring.