If you're a business owner, your Christmas list is probably a bit different from the average person's. The success of your business is likely on your mind throughout the holidays. An unproductive website can be the Scrooge that ruins your business, and, therefore, your holiday spirit. So, to stop yourself from turning into the Grinch, why not ask for the gift of great web design this year?
Web Design Christmas List
A Site for Sore Eyes
In order to keep people from leaving your website, it needs to be aesthetically pleasing. A website that is cluttered with words and comprised of a cringe-worthy color scheme only encourages users to press the "Back" button on their browsers real quick. A fashionable font style, crisp imagery and a subtle color scheme can work wonders to keep visitors on your site.
The Ultimate User Experience
While you want to have a beautiful website that everyone loves to gaze upon, you also want to keep the bottom line of your business in mind. The fact of the matter is, your customers don't want to visit your site just to see how pretty it is. Your website should be easy to navigate so that visitors can find what they're looking for without a headache. Providing visitors with a smooth, simple checkout process is essential to converting them into paying customers. Don't sleep on the power of calls-to-action, either. The proper integration of calls-to-action with web design will help to increase your conversion rate.
Make Sure Your Content is Meaningful
Perhaps you're familiar with the phrase "content is king." Those words have become famous in the realm of marketing for a reason, and it's not because they sound clever. The message sent by your brand is articulated within the content you produce. The content on each page of your website should be carefully crafted so that each reader understands the takeaway point you wish to deliver. For example, your website's "About" section shouldn't be littered with irrelevant information about how your products and services are priced. Each piece of content should be developed with the reader's interest in mind.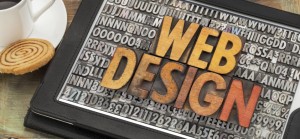 Responsive Design Reaps Results
A responsive website is one that functions properly across all platforms. That means it's easy to use whether you're on a desktop computer or a mobile device. The number of mobile searches has been increasing for years now, so it's likely that many of your visitors will find your site while using a mobile device. If your site doesn't provide a user-friendly mobile experience, say goodbye to a ton of potential customers. They'll probably head over to another site that's easier to use.
Consider a Single Page Site
If your business is working on a tight budget and you're worried that the price of wonderful web design may be too steep, fear not. A single page website may be all you need. Single page sites are easy to navigate, which make them perfect for streamlining user experience—all the user has to do is scroll up and down. When a single page site is designed properly, it will have the visual appeal to keep visitors interested, and still be coded in such a way that search engines will rank it highly.
The Fat Guy Gives the Gift of Great Web Design
If you've decided that web design is a gift you'd like to receive this year, go ahead and ask for it from the Fat Guy (and no, we don't mean Santa). With all due respect to Jolly Ol' Saint Nick, it's best to leave web design to the Fat Guy Media team. Get in touch with your web designer, Kris Kringle, at 516-535-5353 or sales@fatguymedia.com. Just don't forget the milk and cookies.