With over 500 million tweets sent per day, using Twitter as a marketing resource can sometimes feel like shouting into the void—your tweets just get lost in the noise. The way to ensure your voice is heard? Through the use of promoted tweets.
What are Promoted Tweets?
Promoted tweets (also known as Twitter ads) are just like regular tweets, except they are backed by a bit of advertising funds in order to either reach a wider audience, or increase engagement from existing followers.
What Can they Do for my Business?
For businesses who are new to Twitter as well as companies that have already developed huge followings organically, promoted tweets can do a number of things including:
Boost website traffic through content promotions.
Spread the word about coupons and other offers.
Connect with top industry influencers.
Promote brand awareness.
Gain more Twitter followers.
Tweets that have been promoted are clearly marked as such, but other than that, they are just like ordinary tweets—they can be liked, retweeted and replied to. So, by promoting tweets, you can also gain some organic engagement if someone, for example, makes a promoted tweet of yours visible to their followers by retweeting it.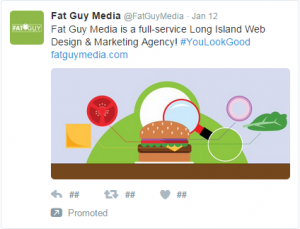 How to Promote a Tweet in 5 Simple Steps
When you're ready to promote some tweets, click on "Twitter Ads." This is located on the dropdown menu on the top right of the toolbar when you're on Twitter.
1.      Define your Goals
The first step of promoting a tweet is to determine what the goal of your Twitter ad campaign will be. Campaigns can be created to gain more:
Followers.
Website traffic.
Likes and retweets.
App installs.
Leads.
Video views.
2.      Line Up the Logistics
You can then choose your payment method, and set a date range to indicate for how long you would like your ads to appear. If it's your first time promoting a tweet, it may be wise to run a campaign for a few weeks or even just a few days to see how it performs.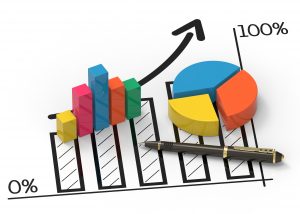 3.      Target the Right Users
The next step is to define your intended audience. With your buyer personas in mind, target users based on location, gender, language, interests, behaviors and the other Twitter accounts they follow.
We'll even throw in a free Fat Guy tip here: be as specific as possible during this phase to hyper target a niche market. You may obtain fewer conversions, but at least the ones you do score will be right for your business.
4.      Allocate a Budget
You must allocate a per-day budget for your campaign. You can also set a total budget to indicate the maximum amount that will be spent on your campaign if you choose. If it's your first time dabbling with Twitter ads, don't spend a ton of money. This way, you can review the success of your promotion without burning through your entire budget.
5.      Get to Tweeting
Now it's time to choose your creatives. In other words: tweet! You can use preexisting tweets from your account, or you can create entirely new ones for strictly promotional purposes. Just make sure you keep your goals and buyer personas in mind as you write the tweet's copy and attach a relevant image.
Using promoted tweets is a lot like having a megaphone in a crowded room: it provides you with a way of amplifying your voice over the nonsense. Like many other aspects of social media marketing, getting the hang of it takes a bit of practice. So if your tweets aren't performing as well as you'd like them to, don't get frustrated. Just make some adjustments to your target audience, write some new copy and get creative!