Remember Vine? The short-lived, six-second video platform that gained popularity in 2012. People could record short clips and put them together in a constant loop. After being sold to Twitter, it was shut down in 2016. Now, in 2020, Byte has been released. So, you may be asking yourself, what is Byte?

What is Byte?
To answer the question, "What is Byte?," Byte launched 8 years later than Vine by the same creator, Dom Hoffman, is another 6-second looping video social media platform similar to Vine. It has similarities to both Vine and TikTok, another popular video-sharing app. You log on and are able to see videos posted by the accounts you follow, or you can check out your "For You" page, where Byte will take the liberty of finding content it believes that you will enjoy.
Byte is trying to recapture the humor that users could find when they would use Vine. You can either upload videos you have saved to your Apple or android device, or utilize the built-in camera that the app has provided for your convenience.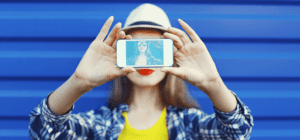 How Will it Fend Against the Video Platforms?
The question has been asked, "Will Byte survive?" When Vine was originally released back in 2012, the video platform had very little competition and was still shut down just after four years. Since then, many different forms of the app have been released. TikTok is the most popular, but according to Tech Crunch, there is also Facebook's Lasso, Firework, Triller, and Dubsmash. There are still a few aspects however that help put Byte above its competition. The first is the nostalgia that users feel towards Vine. The creators believe that those who used Vine will be loyal to the new app. The second advantage is that it is an American made and run product. Many of these other platforms are made and produced by foreign companies and have been put under a lot of scrutiny for it.
In short, to answer the question, "What is Byte?", it's a platform to watch, create and enjoy short video content. Whether your videos are for fun or even business purposes, anyone can log on and start creating. It's a great place to show off your talents.