Since all non-essential employees are working from home, having a reliable video conferencing app is more important than ever.  For many companies, being able to meet is vital for conducting normal day-to-day business. A reliable video conferencing service gives employees the flexibility and confidence needed during these uncertain times. We have compiled a list of some of the best video conferencing apps we have found thus far.

Four Great Video Conferencing Apps for Businesses
1.      Zoom
Having the option of either a free or paid plan, Zoom is the perfect solution for businesses looking for a reliable video conferencing app. There are various plans and price ranges depending on what you may need for your business. The team chat also allows for file sharing, a searchable history, and a ten-year archive, while the video conference can allow up to 1,000 participants and the ability to view 49 video screens at one time.
2.      Go-to-Meeting
If you need an option that allows for either instant meetings or scheduled meetings then Go-To-Meeting is the option for you. With this app you can also opt for meeting transcription services, and in-app messaging between participants. If you have meeting groups of 10 or less then pricing starts at just $14/month.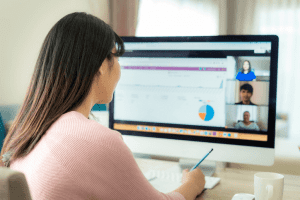 3.      Skype for Business
Skype is a very popular video app for Microsoft and they now have included a business conferencing tool. This video conferencing app allows for up to 250 attendees in a meeting and connection with other Skype users and virtual whiteboarding capabilities. It's the perfect solution if you need to take notes for everyone to see.
4.      FreeConference
If you are looking for a simple video chat for small groups of people, five or less, that doesn't require any software downloads but does allow for international call-ins and call recording, then FreeConference is perfect for you. This app allows you to configure, manage and schedule meetings, including from Outlook, and allows you to set up recurring meetings.
It's important to choose a video conferencing app that is the best fit for your business. With all of the apps available online, it's smart to do research so you choose the one that will allow for the smoothest transition from working in an office to working remotely. Whether you need to meet with one person or 250 people, there is an app that can accommodate your business.