As the Internet consumes more and more of Americans' time, businesses of all sizes are turning to web ads to attract new business prospects. In this blog, we breakdown all the options from social advertising to remarketing.
Web Ads can Help You Spin New Leads
Social Advertising
Social media campaigns, which are now central to any good marketing plan, perform markedly better when run in conjunction with advertising. Social media ads on networks like Facebook and Twitter broadcast your message to more people while targeting them by location, age, interests and other factors.
Facebook
If your Facebook posts haven't been earning enough attention, you probably haven't yet taken advantage of Facebook ads.

With an audience of 900 million daily visitors, Facebook's potential for attracting customer attention is enormous. For as little as $5 a day, Facebook provides targeted, actionable and measurable ads to an active and engaged audience. Facebook ads can be tailored to encourage viewers to take actions like visit your website, add an item to a shopping cart or take advantage of a special offer.
Twitter
On Twitter, promoted tweets, accounts and trends can help you reach new audiences. Twitter ad campaigns can raise your company's name recognition while directing new visitors to your website. The targeting options of Twitter ads can help your business reach niche groups or even a global audience.
A suite of free analytics tools tracks impressions or cost-per-result to enable you to analyze, scale and optimize campaigns.
LinkedIn
LinkedIn is another perfect forum for advertising, because its membership is already geared towards a segmented demographic: professionals. LinkedIn offers B2B targeting by job title, function, industry, company size and more. Sponsored updates or text ads may be used to promote your business on any type of device.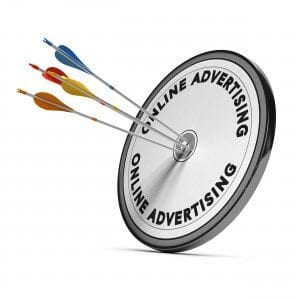 Search Engine Marketing
Search engine marketing is an effective way to increase traffic to your website from search engine results pages. These paid advertisements draw traffic by appearing right alongside organic search results.
In search engine marketing, your business can bid on specific keywords, which places your ad alongside search results for that query. Also known as pay-per-click, you can choose from text-based ads, product listings or more.
Remarketing
Remarketing or retargeting is a strategy to regain lost visitors to your website or app. A remarketing campaign can display your ads to your former visitors as they browse websites on the Google Display Network, or when they are searching for terms related to your products or services.
A remarketing strategy allows you to reel in browsing visitors who saw your product or services and then moved on to another website.
Mobile Advertising
Since nearly two-thirds of Americans now own a smartphone, mobile advertising is now the next big frontier for advertising your business. Mobile advertising, which can appear on smart phones, tablets or other wireless devices, includes everything from text ads to banner advertisements embedded in websites. These ads also have the capability to target consumers based on an individual's web browsing history, geographic location, shopping habits and more.
Display Advertising
One of the most common forms of web ads is display advertising.
These could include:
Banner ads which are embedded into a website.
Rich media which are advertisements that interact with users when they scroll over them.
Display advertising attracts attention to a business' message through images, audio, video and more. Businesses may either purchase display ads on third-party websites or gain a stream of income through selling ads on their own site.
Whichever web ads you choose to use, advertising online is a sure-fire way to reach your ideal customers on screens where they are spending tons of time.