Long Island is a destination hot spot. There's plenty of things to do during every season and it's only a short drive from New York City. So that means there's plenty of hotels on Long Island. In such a small area hotels are constantly competing for guests. So, a hotel needs to be able to stand out among the rest. The solution lies where a hotel can reach the most amount of people and that's the Internet. Thanks to the Internet, hotels have new ways to market themselves. At Fat Guy Media we work with hotels to create proper Inbound Marketing strategies so they can compete online for top search engine rank pages (SERP).
Fat Guy Takes Long Island is our most recent campaign that works to educate Long Island companies about the benefits of Inbound Marketing. Over the course of the next couple of months, we are going to feature some companies in different industries and demonstrate what Inbound Marketing strategies work for them. In the first of our blog series, our featured client is Hotel Indigo East End. Indigo is a lovely hotel located in Riverhead, NY and is right down the block from the North Fork vineyards, great shopping and nightlife. It possesses all the authentic culture attributes of the East End. We got to sit down with Rob Salvatico of Hotel Indigo East End and talk about how he has seen his hotel's marketing success, with Inbound Marketing.
Long Island Hotel Inbound Marketing with Rob Salvatico
Rob wanted to explore the practices of Inbound Marketing on Long Island, understanding it was a detailed marketing tactic to Online Marketing, Internet Marketing and Digital Marketing. Rob first became interested in finding a Long Island Inbound Marketing agency when he wanted to learn more about Hotel Indigo's website ranking high on SERP. Our relationship began by fixing some optimizing issues on Hotel Indigo's website. A website needs the proper SEO services in order to rank on SERP. So, with the right keywords, using the right tools and creating the right content, adjusts the content to be clear and informative. Some of Rob's favorite features of Hotel Indigo's Inbound Marketing strategy are blogging and social media. Our Content Marketing team creates a blog each week for Hotel Indigo. Using targeted keywords correctly, blogs inform searchers about the hotel and increase rank on search pages. Some keywords are even ranked first on Google search pages, which positions Hotel Indigo as a leader for those specific search terms. In the first picture the keyword "live entertainment on the East End" was searched on Google. The picture references page 1. The first search result is Hotel Indigo's website, which ranks above two other websites. The second search result has East End in the URL. The third search result shows Long Island Winterfest, which is the biggest annual music festival on Long Island that Indigo participates in. Ranking first gives Hotel Indigo East End the authority of live entertainment in their area.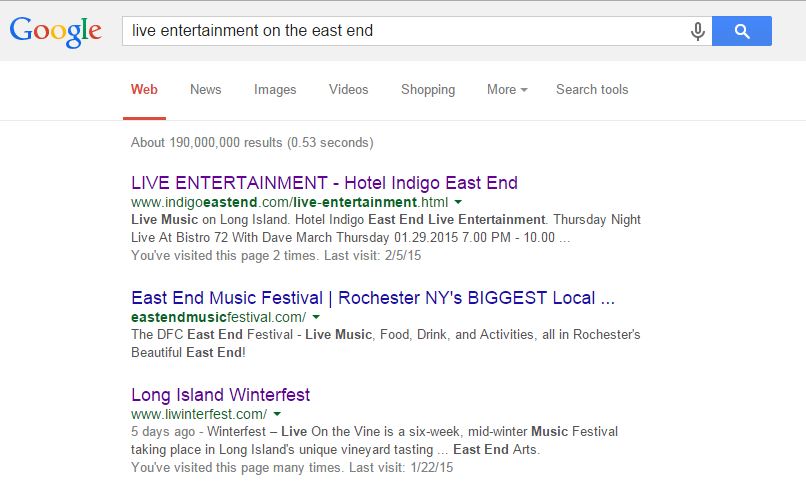 The second picture demonstrates Hotel Indigo East End again ranking first on Google. The keyword is simply "spirited getaway," a phrase Indigo coined. The second search result is also Indigo's website. Finally, the third result shows A Spirited Getaway, which is actually an East End tour package Hotel Indigo is a part of. The first three search results all feature Hotel Indigo East End. Creating blog content using the best keywords provides the traffic Indigo needs to gain popularity and convert searchers into guests of the hotel.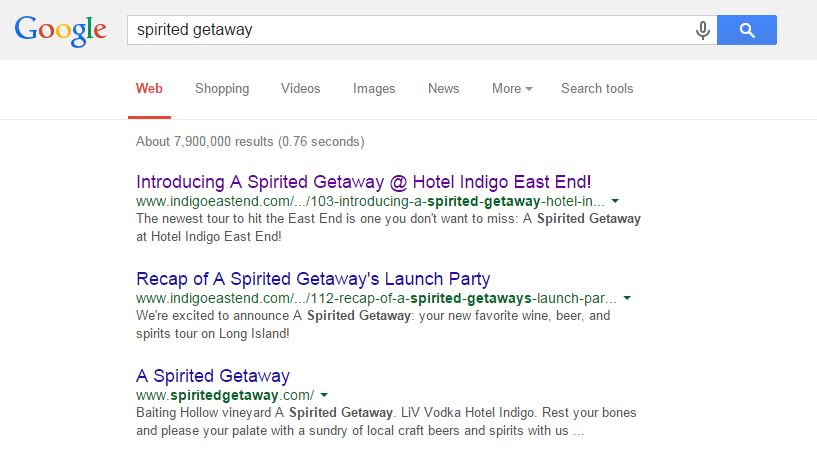 Rob takes pride in their social success. As of now, Hotel Indigo has 6,864 likes, meaning almost 7,000 users who see their social posts every day. Giving people the ability to keep up with Hotel Indigo East End on a social network provides a relationship with the social users and in turn, those users will promote Hotel Indigo, by sharing and liking posts. Hotel Indigo East End recently hosted, Paint & Sip, an evening of dinner, wine and a painting tutorial. Leveraging Facebook's advertising tools allowed them to reach an audience of 9,580. This many Facebook users saw this post because it was shared 45 times, meaning people who did not originally like Indigo's page still saw it.  The 114 likes and 27 comments led to a discussion that ultimately sold out the event.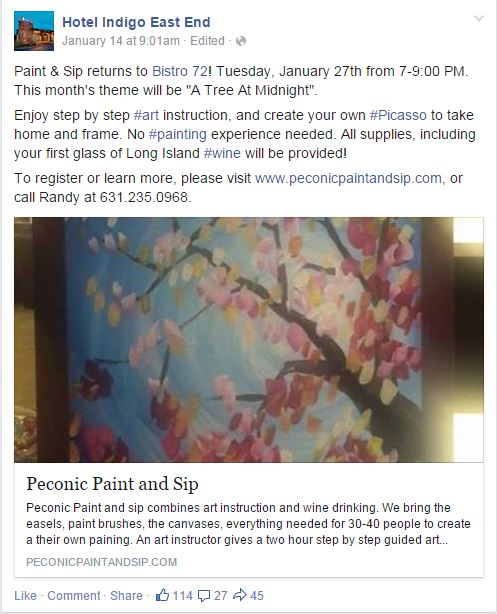 Hotel Indigo East End also hosted a New Year's Eve party, which promoted available guestrooms at the hotel and dinner at Bistro 72. Using pictures of a past New Year's party and writing a post that would benefit users, Indigo received 143 like and one share. The objective of using social media marketing for business is to share content that would be valuable to social users so they can apply it to themselves. Indigo's Facebook posts demonstrates their ability to connect with social users on a human level and answer any questions they might in a relaxed environment.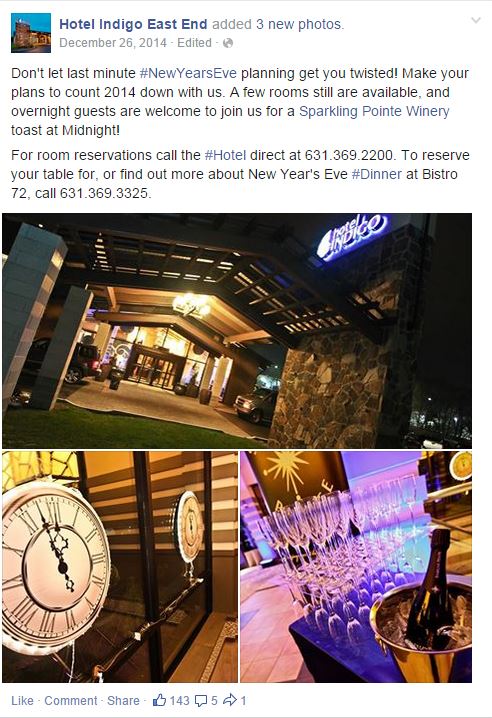 Long Island Hotel Inbound Marketing is a competitive field. However, Hotel Indigo East End has come out as an industry leader on the Internet in their area. Their traffic and followers have increased an impressive amount and a strategic Content Marketing plan has created over five dozen pages online. That's why Hotel Indigo East End is our first feature of Fat Guy Takes Long Island. For more information about our Long Island Hotel Inbound Marketing services, feel free to call us at 516-535-5353 or email us at sales@fatguymedia.com.