Do you feel as though your marketing strategy is lacking? Maybe your marketing plan hasn't been resulting in the conversions you've been looking for? Well, if this sounds like you, it may be time to reevaluate your content marketing plan. With a proper content marketing strategy, you'll be able to create the appropriate content and, in turn, reach your desired goals.

The Steps to Creating a Successful Content Marketing Plan
Determine What Your Goals Are
If you don't have a complete understanding of your goals, it will be impossible to determine a content marketing plan that will be successful. First, you need to sit down and figure out what specific service or product you want to market. Once you have that decided, determine what your lifetime value is. Understanding your lifetime value will help you better understand how you should go about marketing your product/service and will allow you to measure your results more accurately down the road.
Understand Your Audience
The next important step is to understand who your target audience is. Once you have a concrete idea of who they are, you'll be able to better understand and create the content that will resonate the most with them.
Without knowing who your audience is can lead to gaining unqualified leads and potentially reaching the completely wrong set of people.
Determine How You Want to Market to Your Audience
Next, determine how you want to market to your audience. For example, are you trying to focus specifically on social, video content, blogs, emails, or maybe a combination of all of the above?
With a clear understanding of who your audience is, you'll be able to make an educated decision on the best way to reach these potential customers.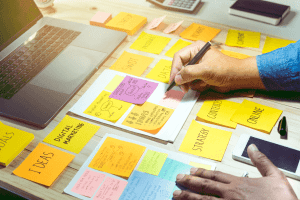 Create a Content Calendar to Follow
Now that you have your goals set in place, your audience is defined, and you know how you'll reach them, the next important step is making sure your content production stays on a precise schedule.
Creating a calendar that includes what pieces of content will be posted on what channels on which days is the best way to stay organized. It will also allow you to plan a full quarter's worth of content at a time.
By taking this extra step in your content marketing plan, you can ensure that every piece of content you produce aligns with the goals you set in place and help you achieve them.
Create the Content
Finally, it's time to create the content! You've worked all this time to plan what content pieces you'll be making, and now it's time to put it to the test!
Measure Results
Once all of these steps are finished, it's essential to measure how your content is performing. This will allow you to determine if what you're producing is working or if any updates or adjustments may need to be made. If something isn't performing how you wished, don't be afraid to change things up!
If you need help creating your content marketing plan, contact Fat Guy Media. We can help you create your plan and monitor it carefully to make sure that, by the end of each quarter, you are reaching your goals!