When it comes to marketing of any kind, a plan of action is key to organization. In digital marketing, where many different platforms begin to pile up, a plan is especially helpful. What is a digital marketing action plan and why is it important? Below, we will tell you all about it and how it can benefit your content.
What is a Digital Marketing Action Plan?
As the world shifts towards an entirely digital front, it is more important than ever to investigate how your brand can be presented digitally.
The term 'digital marketing action plan' is a mouthful to say but it's actually a very simple concept, usually handled by a digital marketing firm. A digital marketing plan is derived from the term digital marketing, which carries all the elements of regular marketing but translated across digital channels. This means acclimating to various websites and social media outlets, creating content via blogs, podcasts, or even mass emails.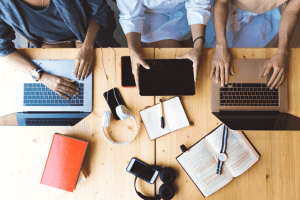 How to Create Your Plan
HubSpot lists six steps to forming your digital marketing action plan:
Build buyer personas
Identify goals and the tools you need
Evaluate your existing channels, if any
Audit and plan out owned media campaigns
Identify your goals and the tools needed
Audit and plan out earned media campaigns
Each step is made up of a number of strategies and factors to consider. For example, the buyer persona can vary based on things like age and personal priorities.
Executing Your Plan
The digital marketing action plan is a looming term covering all aspects of digital marketing for your brand and content. It is a necessary part of a modern brand in order to remain relevant and present in your audience's mind.
If all of this sounds overwhelming, don't worry. This is where a digital marketing firm can help. Let Fat Guy Media handle all your digital marketing concerns. Contact us today!