Hosting events are one of the most effective ways for businesses of any size to gain brand awareness. Setting up an event is simple, but getting people to attend can be a challenge. Luckily for you, we have a few ways you can use organic marketing to help promote your next event!
Market An Event with Organic Marketing
If you're on a tight budget, you may be looking for affordable ways to market your next event. Using an organic marketing strategy means you will gain customers naturally over time rather than through paid links or boosted social posts. Organic content creation often requires little if any, financial investment if you do it yourself. Let's dive deeper into how to utilize organic content:
1.      Blogging and Content Marketing
Nowadays, most people use the internet to learn about upcoming events in the area. It's been reported that those who use blogging as an inbound marketing strategy are 13 times more likely to receive a return on investment (ROI). Blogs boost SEO and give more opportunities to rank high in search engines by answering relevant customer questions.
2.      Make Sure to Optimize Your SEO
When creating blogs or content that surrounds your event, be sure to use high-ranked keywords to help it get to the first page of Google searches. SEO, which stands for Search Engine Optimization, is the key to getting attention about your event. Organic SEO is an online marketing strategy that uses keyword research and link building to help your website rank at the top of unpaid search engine result pages. When posting about your event, if you've been consistently using keywords it will give your website higher domain authority and a better opportunity for it to rank high in search results.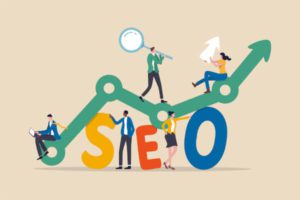 3.      Use Social Media Platforms
Social media has many tools to help promote your event, including:
Creating special pages on Facebook
Provide details with all the information your guest will need
Creating hashtags
Posting countdowns
Posting user-generated content about the event
Social media platforms serve as another tool for the distribution of organic marketing pieces you've been creating. Be sure to utilize this form of organic marketing as much as possible when promoting an event.
Get Help Marketing Your Next Event!
If you need help getting people to attend your next event, organic marketing is the perfect place to start! Not sure what organic event marketing consists of? No worries, the marketing experts at Fat Guy Media are here to get you started. Contact us today!