During a tough financial situation, paid advertising is an added expense to consider. The coronavirus pandemic created an unstable financial situation across the board. Therefore, many businesses are turning to organic marketing instead. We will go into depth about what this trend means, and how to utilize it to its fullest potential.
What is Organic Marketing?
Organic marketing is the cousin of paid advertising, as it still requires some investments but relies on different factors to gain traffic. Glofox listed the six components of organic marketing:
Search Engine Optimization (SEO) – a key element of any marketing campaign. SEO is used to help website pages rank higher in search engines.
User-generated content – by utilizing brand loyalty, your brand can rely solely on its customers to share their experiences with your company or product on social media.
Blogs – choosing topical content that relates to your business or a current event, writing a blog and publishing it to your website using a paid service (WordPress, Hubspot, etc.) will allow you to share more viewpoints than what is just expressed on the original pages of your website.
Guest posts – bringing in a guest to post on your social media or blog will freshen up the face, voice, and style of your posts to keep your audience engaged.
Email blasts – sending out a mass email during an unsure period of time will communicate to your audience that your brand cares about topical social issues and upholds a high standard in the workplace.
Unpaid/organic social posts – even though paid advertisements on social media platforms are highly effective in reaching a large audience, unpaid and organic posts come across as authentic when there is no 'paid advertisement' banner or #ad at the end of the post.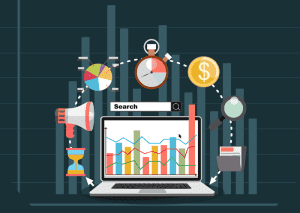 How Can My Brand Get the Most out of This?
Now that you are aware of the most important pieces of the organic marketing puzzle, it is important to consider every option. Some of the components above may be wildly successful for one brand and yield poor results for another.
So, what should your brand focus on when it comes to organic marketing tactics?
Investigating your audience's search traffic habits – It is beneficial to your brand to find out how your company is being discovered online – whether it's from another brand's blog post, a social media influencer's video or post, or through hashtags, your brand can figure this out and use it to your advantage
Social media specifics – If you aren't receiving the traffic you desire on Facebook, it may be worth your time to branch out to other social media platforms if you haven't already. If you have handles on most platforms, it may be beneficial to focus more on one popular platform or invest in a scheduling tool that can post on multiple platforms at once.
It's also worth taking a look over your traffic to see how certain posts perform. If a certain type of post isn't getting as much attention as you would have hoped, your posts may need to find a new format.
Having a fully optimized website – filling out meta descriptions, including keywords, adding alt text and optimizing for mobile users will bring your website up in search results; this also adds to the customer experience as your website will be easily accessible and found more quickly in search results.
The Organic Difference
Your brand is fully equipped with all the tools needed to accomplish successful organic marketing. Make sure to take stock of what you already have as far as social media goes, and build upon the information you already have gathered about your business and its traffic.
Interested in investing your time in organic marketing but don't have the time or employees to develop it? Check out Fat Guy Media! We cover everything mentioned in this article and can optimize your website to your liking. Visit our website today!