More than just tasty vittles are necessary to build and sustain a healthy following for your restaurant. Successful restaurants know that attracting a regular customer base requires time, effort and an effective strategy. If your eatery's place settings are left untouched, restaurant rebranding could put diners back in your seats.
The Ingredients of a Successful Restaurant Rebranding
Over time any solid restaurant can stagnate. With new establishments constantly opening, it pays to keep more than just your food fresh. Our elements of branding, including creating a new logo and/or website, are an integral part of a restaurant's recipe for success.
Company name
Your company's name is crucial for brand recognition. A memorable name is a competitive advantage. Customers easily remember brands with catchy names like Bobby's Burger Palace and Waterzooi Belgian Bistro. A memorable name like these ones can pay dividends far into the future.
Web address
In restaurant rebranding, creating a new company name goes hand-in-hand with choosing a business web address. If you've created a unique company name, you will have more options when selecting a new web domain. In this process, be mindful of the importance of search engine recognition that which can drive traffic to a website. As domain registration explodes, it becomes more difficult to find a simple web address for existing businesses. In web domains today, creativity rules. Filomena's Restaurant in Franklin Square chose www.myfilomenas.com when more obvious web addresses were unavailable.
Logo
A creative, memorable logo is one essential element of a successful rebrand. It may be the first and only brand image your customers see. Logos like Target and Starbucks conjure up a brands image without saying a word.
Messaging
Restaurant rebranding includes the creation of a tag line that gives customers a quick sense of a business' focus. Do you remember Miller Lite's famous tagline, "Great Taste, Less Filling"? Of course you do. All the most memorable tag lines in history reinforce a company's core functions creatively and succinctly.
New Website
Your website can be your business' greatest ambassador. New and existing patrons may check in at any time to see your establishment's menu or hours. This important storefront to the world should look and perform at its best day in and day out. If your website is beginning to show its age, it might be time for a face lift. Today, rebranding is incomplete without a visually-appealing, modern website. If your restaurant's website has not been updated since Y2K, you should take a look at this example of how a website redesign can help to reimagine an existing eatery.
The Fat Guy Difference
Before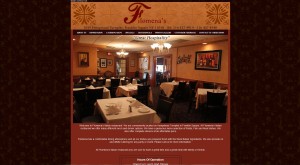 After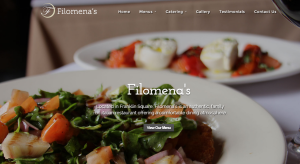 Before hot dishes go cold, consider trying restaurant rebranding. It can repackage your eatery to stand out from all the others.