When it comes to holidays, it isn't uncommon for brands and businesses to use the occasion for promotion or advertising. Therefore, St. Patrick's Day is no different. Brands everywhere will be trying their luck (of the Irish) to appeal to users with fun St. Patrick's Day marketing campaigns. Here are a few brands that struck a pot of gold with theirs.
Fun and Festive St. Patrick's Day Marketing Campaigns
Krispy Kreme goes Green
On St. Patrick's Day, most restaurants and bars will probably have some variation of green food or drinks, from bagels to beers. In fact, last year, even Krispy Kreme shook up their famous glazed donuts for the occasion.
For two days, Krispy Kreme changed the name of their original glazed donuts to "O'riginal Glazed," a play on Irish surnames. Not only that, but they also dyed all of their glazed donuts green with colored dough.
After this St. Patrick's Day marketing campaign went viral, visitors flocked to Krispy Kreme for these delicious green creations. The global chain even decorated the donuts with little shamrocks and flags of Ireland!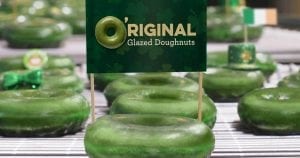 Guinness' Charitable Giving
Most of the time, Guinness' St. Patrick's Day marketing strategy involves festive social posts and other marketing campaigns. However, this year, they've decided to do a little good with their #StacheForCharity campaign.
Until March 31, social media users are encouraged to share a picture of their beer mustache and tag @GuinnessUS and #StacheForCharity. For every post, Guinness will donate $1 (up to $100,000) to the Guinness Gives Back Fund in honor of St. Patrick's Day.
All funds go to nonprofits that support the community, including Team Rubicon, a veteran-led disaster response organization. This St. Patrick's Day, Guinness US is using their social following for good, so expect consumers to take notice.
This St. Patrick's Day, give the gift of the 'stache! From now until March 31, 2019 when you tag @GuinnessUS and share your #StacheForCharity, we'll donate $1 (up to $100,000) to the Guinness Gives Back Fund. Learn more at https://t.co/lIW5jzGZgn. pic.twitter.com/IwAQXpR8u4

— Guinness US (@GuinnessUS) March 1, 2019
The Hard Rock Café's Location-Based Offerings
For St. Patrick's 2017, the Hard Rock Café had the unique idea of offering different specials per location. For instance, they promoted drink specials, like Irish Mules, at their NYC location, since the bar scene is so popular on St. Patrick's Day.
On the other hand, at their Orlando location in Universal Studios, it was a bit different. Since their crowd contains many families, they served up Reuben sandwiches and Guinness cupcakes.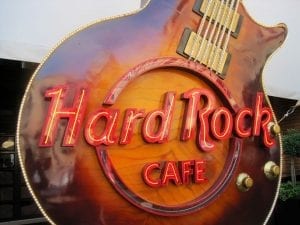 When it comes to holiday marketing campaigns, it's important to be aware of your audience like Hard Rock Café did. Otherwise, few will notice, and your promotion will fall flat on its face.
In order to promote your brand with some Irish luck, follow the example of these great St. Patrick's Day marketing campaigns.