Many restrictions are being set in place to keep our communities safe from COVID-19, but they are also impacting small and local businesses in a negative way. What do business owners do when they cannot allow patrons into their stores or restaurants to keep them afloat? Facebook is now offering an outlet for businesses to interact with customers again through Facebook paid online events.
Adapting to a Digital World with Facebook Paid Online Events
Our world is adapting in order to make the best of such unprecedented times. The new normal for many is working from home and communicating with others via Zoom. In person events like concerts, classes, and sales seem to be a thing of the past. Facebook paid online events are helping to bring such activities back into our lives.
By providing a platform for businesses to interact with their customers and also make a profit, they are paving the way for a new way of business.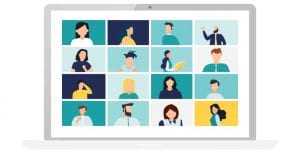 Facebook is Free of Fees
This new feature serves as an all-in-one platform for people to conduct business; they can promote events, accept payments for events, and host the events all in one place. Users simply pay for the Facebook paid online events and attend them online. If you are waiting for a catch, keep waiting because there isn't one, as Facebook is not collecting any fees from these events.
Giving Small Businesses a Break
Local businesses who have lost business from lack of foot traffic have the opportunity to thrive with this platform. For example, gyms that have been shut down can start holding virtual workout classes. Similar events like cooking classes, art classes, concerts, business training, and more can all be conducted virtually.
Just as exciting as this opportunity is for small businesses, customers who have been longing for a social event or a break from their routine also have something to look forward to.
Get Creative with Online Events
Any business can take advantage of these Facebook paid online events. Some businesses may have a harder time coming up with ideas when it comes to how they will entice and entertain their customers. Many have accepted that online events are appropriate during this time, so don't be nervous to try something new with your customers!
For example, a massage spa may not be able to accept clients, and while they cannot perform a massage through a screen, they can send sample products to those who sign up for an event and use the time to discuss skin care routines or ways to relax. With the lack of social interactions combined with the fact that Facebook is not charging any fees, what is there to lose?