Social media for business and social media for personal use are two very different animals. On your own personal social media accounts, there's no shame in being a bit vain and showcasing your life. However, when using social media for business, you should have your audience, not yourself, in mind. This is easier said than done, especially when the ultimate goal is to bring more customers to your business.
Tips on Using Social Media for Business
Pick the Right Platforms
It goes without saying that every business is different. You may admire the strategy of a specific business—take Taco Bell, for example. Few would deny that they have a great presence on Twitter. But, if you're reading this, it's unlikely that you're managing social media for a globally-recognized fast food company. A lot of Taco Bell's tweets are crafted for millennials, who make up a large part of Twitter's user base. If your company isn't marketing to millennials, it won't benefit very much from emulating Taco Bell's Twitter, which often tweets several times a day. Brands who target an older audience may profit from spending more energy on Facebook, since its user base contains more users between the ages of 35 and 54 than any other age range. Finding the right platform when using social media for business is all about who you'd like to reach.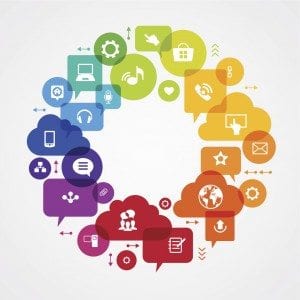 Don't Be Stubborn
In the planning stage of your social media marketing strategy, it's perfectly fine to make assumptions about your audience and how they'll respond to your content—you need to start somewhere, after all. But, as you execute that strategy, you may notice that your initial assumptions don't hold true. If this is the case, don't panic. That just means it's time to change things up. If you treat your audience as an evolving subject with whom you're having a dialogue, not just an object you're talking at, you'll have more success on social media.
See the Silver-Lining in Criticism
If you had it your way, every single one of your customers would leave your business with glowing reviews, ready to spread the word of your excellent products and services to their friends as they made their way back to spend more money at your establishment. Unfortunately, this doesn't happen in the real world. It's just not possible for a business to satisfy everyone. Often times, disgruntled customers take to social media to air their grievances, with expectations of quick, sincere responses. Instead of shying away from criticism on social media, use it as an opportunity to showcase your brand's empathy by rectifying a bad situation publicly, even if it's just by offering an earnest apology.
Make Yourself Easy to Find
If you're using social media for business but nobody can find you, what good does that do? Placing icons that are linked to your social media accounts on your website and within your emails will help you gain visibility. Also, the names of your social media accounts should contain your brand's name somewhere within them. For example, predictably, our Twitter handle is @FatGuyMedia, because it reinforces our brand.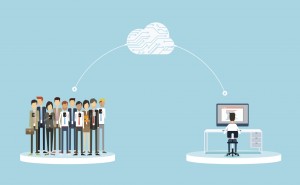 Promote Others' Content
Like we mentioned earlier, the satisfaction of your audience is what matters the most when it comes to using social media for business. If you read an awesome article, tweet or Facebook post that you feel your audience would value, share it with them. Even though you might not see an immediate spike in business, it still benefits your audience and helps you build brand authority. The benefits your audience receives are what give them reason to follow you. Sharing the content of others may also help to build a relationship with the content's creator, even if it's a competitor.